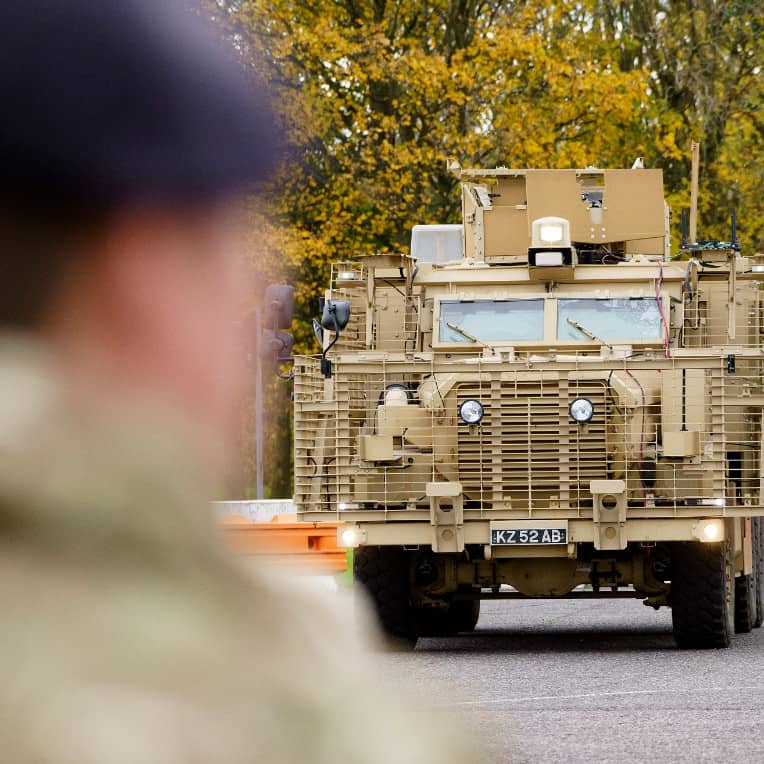 ABD Solutions has created the world's first autonomous Wolfhound Tactical Support Vehicle (TSV) using its retrofittable autonomous driving system. 
The Wolfhound is a heavy-armored truck and is part of the TSV fleet, which is used to accompany front line patrols and carry essential combat supplies, such as water and ammunition. It provides troops with increased protection as they support missions in high-threat areas.
Developed in partnership with NP Aerospace, engineering authority for the U.K. Ministry of Defense (MoD) protected mobility fleet, the vehicle was demonstrated at a defense technology innovation day held at the HORIBA-MIRA proving ground in the U.K.
The ABD Solutions system is vehicle-agnostic and consists of market-leading vehicle control robots, object detection and reaction systems and mission planning software. It provides any vehicle with a traditional steering wheel and pedal set up with autonomous capabilities. The system is simple to install and can be driven by a human when in place to increase flexibility.
"The defense industry wants to accelerate the autonomy of its vehicles as it has significant safety and cost benefits," said Matthew Price, Managing Director of ABD Solutions. "One of the key challenges is maximizing the substantial investment already made in the current fleet. Our product enables these legacy vehicles to be automated, today."
There are major benefits to automating vehicles in the defense industry, such as reduced risk to defense personnel in hostile environments, increased efficiencies within theater and logistics supply chains, and maximized life and versatility of legacy vehicle platforms and infrastructure.
In practice this enables operations, such as counter-IED, route clearance, demining and general logistics activities, to be carried out without personnel in the vehicles.
Using ABD Solutions' advanced leader-follower algorithms, object detection capabilities and drive-by-wire teleoperation technology, a single driver can operate multiple vehicles in convoy, freeing up personnel to carry out more valuable tasks. The automated vehicles can also be precisely controlled to carry out simulated training exercises.
David Petheram, Chief Operating Officer, NP Aerospace, said: "It is encouraging to witness new generation technology being demonstrated within the protected mobility fleet. The feedback at the defense technology innovation day was very positive regarding the potential benefits that could be realized using the technology."
ABD Solutions is a member of the AB Dynamics Group, which has been automating vehicles for several decades. It develops and supplies driving robots to the world's leading vehicle manufacturers, proving grounds and legislative technical services.
"The Group has significant experience automating defense vehicles for development and test purposes," Price added. "Now, through ABD Solutions, existing fleets can be automated for use in a variety of operations. We believe this could be a life-saving technology."