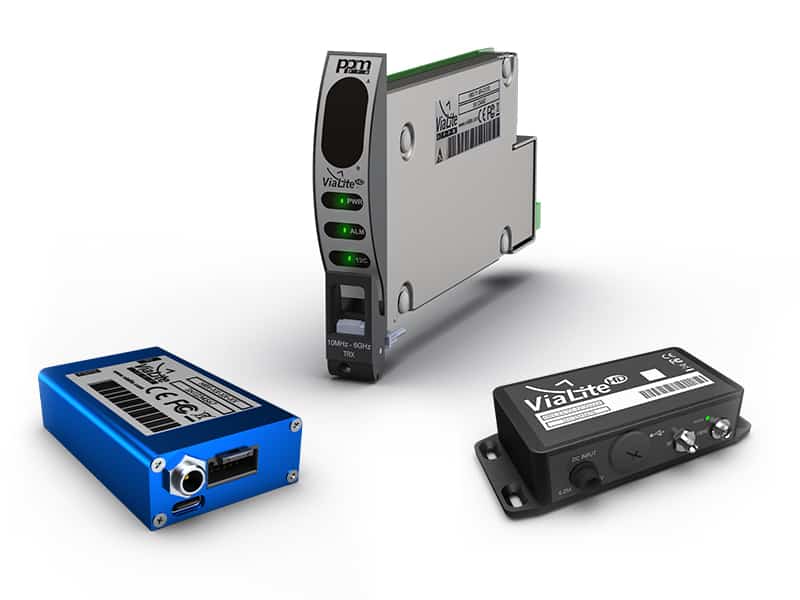 ViaLite has launched a Mil-Aero 10 MHz to 6 GHz RF over Fibre Link Pair. The products have been specifically developed for demanding air force and navy applications, army telemetry systems, signals intelligence (SIGINT) deployments, tethered aerostat and drone applications, plus multi-service military electronic warfare systems; where fibre is an essential replacement to coax.
As one of ViaLite's most versatile RF over fibre links it covers bands from HF, VHF and UHF through to telemetry and satcom bands P, L, S and C. It also offers the best Spurious Free Dynamic Range (SFDR) performance in its class, making it ideal for high bandwidth applications or where the application has a large range of RF signal powers. The link is further enhanced by a low noise figure (NF), optional gain and 1 dB compression points (CP).
Supporting distances of up to 50 km, the Mil-Aero link is available in rack chassis card or OEM module format, including ViaLite's new black OEM design which is outdoor rated. All formats come with a 5-year warranty as standard – the industry's longest included warranty – providing protection and reassurance for customers.
"I am very pleased to be supporting our Mil-Aero customers with this new and exciting solution that exceeds current solutions in almost every key category related to SFDR, NF and 1 dB CP", commented Craig Somach, ViaLite Director of Sales. "The feedback from our users has been very positive and consistently shows the new ViaLite Mil-Aero Link Pair to be setting a new design standard of higher electrical performance and mechanical integrity, along with superior quality and reliability."