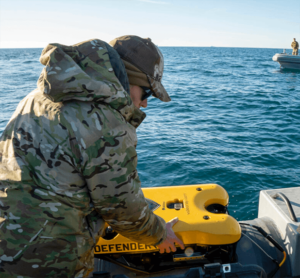 Underwater technology company VideoRay, has been awarded a $16.1 million order for Mission Specialist Defender underwater Remotely Operated Vehicles (ROVs) and related components for the US Navy's Maritime Expeditionary Standoff Response (MESR) program.
This brings the US Navy's total procurement of Mission Specialist Defender vehicles and accessories to $49 million since they entered into a Production-Other Transaction Agreement (P-OTA) with VideoRay.
With this order, the US Navy continues its efforts to procure and equip Explosive Ordnance Disposal (EOD) units with the Mission Specialist Defender as the base platform for the MK20 Defender ROV program. This program uses advanced technology provided by these ROVs to locate and neutralize underwater mines.
With the MESR Program, the Navy plans to upgrade the baseline vehicle with incremental updates to sensors, autonomy, tools and manipulators in order to provide enhanced capability to the EOD operator, further increasing standoff and decreasing risk.
"VideoRay is proud to continue to serve our US Navy customers and to have been chosen as the production partner for the MESR program," said Chris Gibson, VideoRay's Chief Executive Officer. "The Mission Specialist Defender, from which the US Navy's MK20 Defender ROV derives, offers modularity and an open systems architecture allowing easy integration of 3rd-party sensors and payloads. Our product provides our customers with industry-leading performance in size, weight, and power for its class with a proven record of reliability. And all of this is delivered in a man-portable package capable of performing a variety of demanding missions in the most challenging underwater environments."