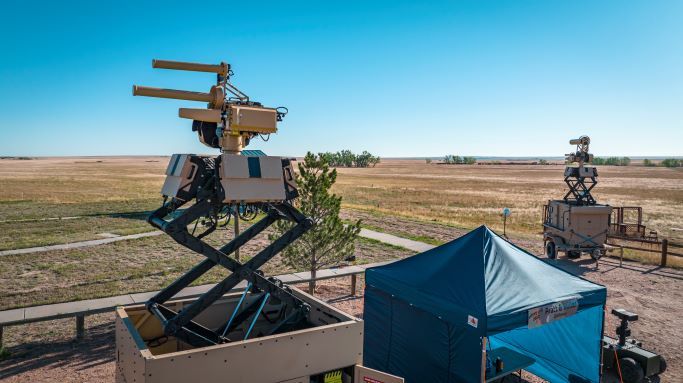 Liteye Systems Inc. has been selected to provide approved Counter UAS services and hardware to the US Government as part of the SAIC Counter-UAS as a Service (CaaS) system-of-systems architecture.
Selected by the Joint Counter-small Unmanned Aircraft Systems Office (JCO),
Liteye was chosen as an important part of the SAIC team to protect fixed locations under the CaaS model. CaaS is defined as Contractor Owned Government Operated (COGO) or Contractor Owned Contractor Operated (COCO) solutions enabling the Department to effectively detect, identify, track and defeat adversarial UAS while meeting critical affordability and funding realities.
In partnership with Team SAIC, Liteye successfully demonstrated its Counter Unmanned Arial Systems (C-UAS) capabilities and is now eligible to compete for future CaaS contract opportunities.
The Liteye SHIELD system consists of the Spyglass radar system developed and manufactured by Numerica Corporation, along with HD EO/IR optics and RF Detection, Take-Over, and Defeat capabilities. The SHIELD system can operate as a stand-alone system, be remotely operated, or be integrated into a higher-level Command and Control solutions.
In response to the proliferation of small UAS coupled with the threats to service members and critical infrastructure, the Department of Defense (DoD), in partnership with industry, is looking to acquire C-UAS via a CaaS model.
"Liteye is honored to be part of the SAIC team to provide a layered C-UAS solution to the DOD," said Kenneth Geyer, Liteye CEO and Co-Founder. "As unmanned platforms proliferate the air and ground in the battlefield assuring these defensive systems, and the teams that sustain them, are operational 24/7 and continuing to advance to meet the ever-evolving threat is mission-critical."