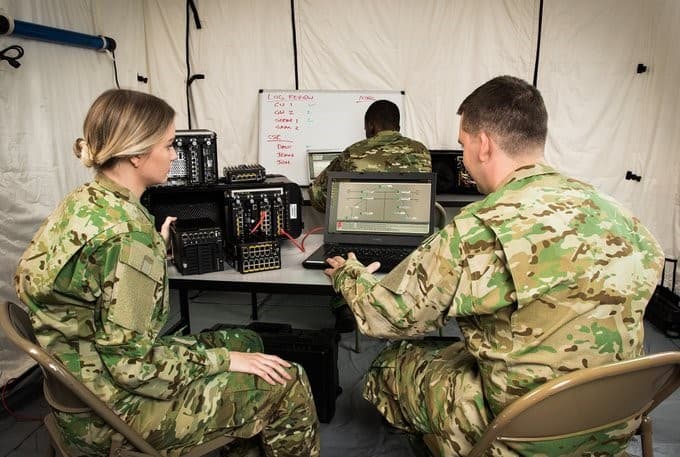 PacStar has been awarded a contract by the U.S. Army Program Executive Office Command, Control, Communications-Tactical (PEO C3T) to provide its PacStar 400-Series platform for SCOUT (Scalable Class of Unified Terminals) in support of the U.S. Army Integrated Tactical Network (ITN) program.
The ITN program incorporates the Army's current tactical network environment with commercial off-the-shelf (COTS) components and transport capabilities to enable communications in disconnected, intermittent and limited (DIL) bandwidth environments. SCOUT equipment provides small teams of soldiers with expeditionary satellite capabilities for low-bandwidth communications requirements and exchange of secure and non-secure data, voice, and video.
PacStar's 400-Series modules are lightweight with a small form factor, making them ideal for smaller, quick-maneuvering army units such as Security Force Assistance Brigade (SFAB). Providing routing, switching, and advanced network services, the system simplifies training and deployment, allowing users to train once and gain the ability to operate multiple systems. Expeditionary warfighters frequently rotate, and the ability to use a common operating knowledge base wherever they go will reduce overhead and training costs.
PacStar 400-Series has been extensively tested by third party laboratories to ensure that the system can meet demanding MIL-STD environmental requirements and provide maximum communications uptime even in harsh field environments, and has been field-proven in multiple large DoD programs. The solutions will be delivered to four Infantry Brigade Combat Teams (IBCTs) as part of the ITN Capability Set 21 rollout.
Peggy J. Miller, CEO of PacStar, commented: "As the U.S. Army and other DoD organizations continue to pursue expeditionary style warfare and engage more agile, smaller units, they must support on-the-move warfighters who often enter remote and mobile environments with limited communications equipment and uncertain infrastructure. PacStar offers a proven, and reliable tactical communications platform that demonstrated superior Size, Weight and Power (SWaP) capabilities during ITN tests, accelerating DoD modernization efforts."