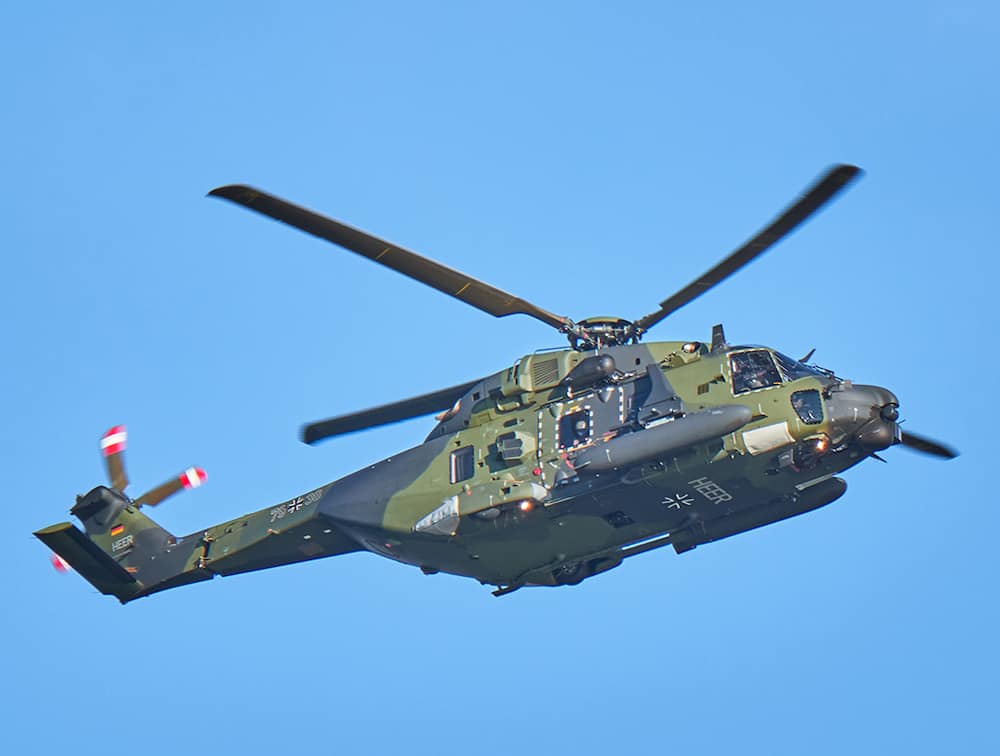 HENSOLDT will equip 82 Bundeswehr type NH90 Tactical Transport Helicopters (TTHs) with its Airborne Missile Protection System (AMPS) technology, the company's latest generation of self-protection systems for these helicopters. 
For the first time, the AMPS will also include HENSOLDT's radar warning receiver, Kalaetron. After the integration phase, the helicopters are to be equipped within the framework of the THOR project (TTH Operational Revision Program) from 2025.
In the 94th session of the Defense Committee of the last parliamentary term, the project of a sample installation of the HENSOLDT AMPS-MLR Electronic Warfare System in the German NH90 TTH was approved.
During proof flights with the Kalaetron on the CH53 helicopter at the Wehrtechnische Dienststelle 81 in June 2020, the decision-makers WTD81, BAAINBw, and Airbus Helicopters came to the conclusion that the HENSOLDT solution, consisting of the Missile Launch Detection Sensor MILDS Block2, the passive laser warner ALTAS-2QB, the Kalaetron, the AMPS Control and Display Unit ACDU as well as a Counter Measure Dispenser System, represented the most future-proof concept compared to the competitors.
"With the AMPS Self-Protection System, HENSOLDT is making a significant contribution to the assertive air mobility of the German Army well beyond 2025," said Danny Hütteroth, Head of Self Protection Systems.
AMPS is a protection system that detects relevant missile, laser and radar threats and automatically initiates targeted countermeasures. In its basic version, AMPS detects the exhaust jet of approaching missiles, automatically triggers decoys and thus effectively interferes with the missile's homing head. Due to its modular design, AMPS is expandable with laser sensors, radar warning sensors or laser countermeasures.
The Kalaetron radar warning receiver detects and identifies threats very quickly and with an exceptionally low false alarm rate due to its fully digital design in a wide frequency range.
AMPS thus offers comprehensive protection for aircraft and helicopters even against state-of-the-art anti-aircraft weapons and integrated air defense systems, as well as further growth potential against future threats.