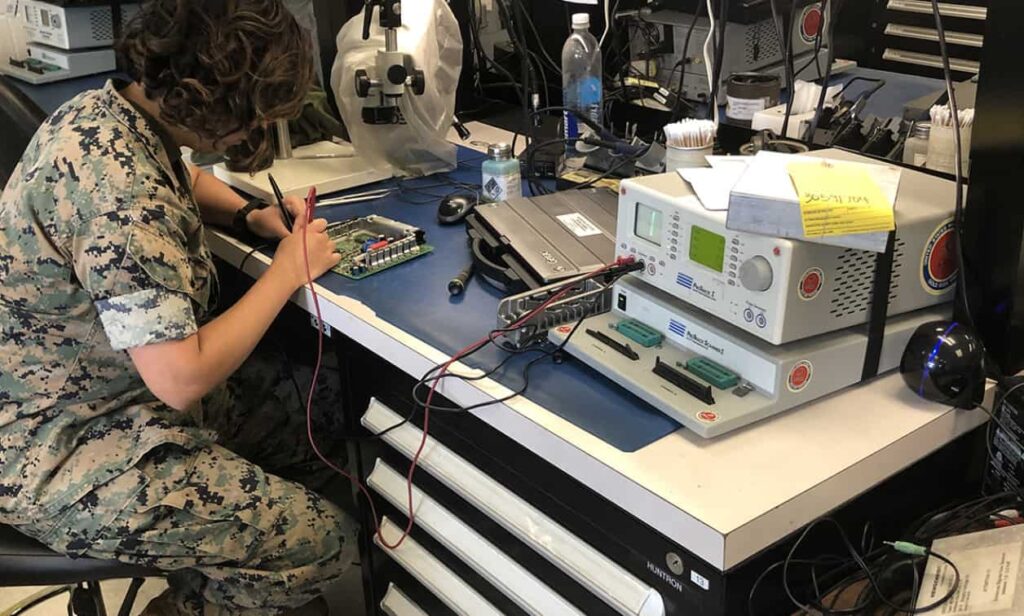 Marine Corps Systems Command intends to field an upgraded maintenance system capable of repairing circuit cards within electronic, communication and many other systems employed by U.S. Marines.

The Circuit Card Assembly Test Station is a shelter-mountable unit that Marines can use to diagnose and repair circuit cards for any system comprising one. A circuit card, or electronic module, refers to replaceable units that comprise a given system.

"CCATS enables electronic module repairs to be accomplished at the lowest practical maintenance level," said Jorge Ruiz, the project officer for CCATS. "In laymen terms, CCATS allows Marines to fix their own gear."

The system enables various Marines, primarily communication and electronics maintainers, to analyze and compare faulted circuits with tools, and test equipment to repair circuit card runs, substrates and connectors. It also allows them to remove and replace faulted components such as transistors and capacitors.

Marines can use the system to troubleshoot and repair everything from radios and power systems to weapon and optical systems. They can use CCATS to fix or restore circuit cards within electronic control units, which are internal computers that control vehicles.
"Marines like the fact that it is easier to use and how it is more time-efficient," said Ruiz. "It reduces the amount of time they sit in front of a machine and try to repair a circuit card."
As technology advances, more systems used by the Marine Corps include circuit cards. CCATS enables Marines to troubleshoot and repair equipment rather than return the components to the manufacturer for repair. As a result, the Marine Corps saves time and money.
Not every Marine can use CCATS. They must first be trained to employ the system. Marines must first attend a four-week course on the basics of electronics, located in Twentynine Palms, California. Next, upon graduating from a specialty school and completing on-the-job training, they can attend Naval Undersea Warfare Center to learn to operate CCATS, which includes developing repair routines and producing new circuit cards.

The system upgrade will replace the legacy CCATS, an analog system that began fielding in 2009. Marines at III Marine Expeditionary Force will be among the first to receive this equipment in the second quarter of fiscal year 2021. I MEF and II MEF are expected to receive the system in fiscal year 2022.