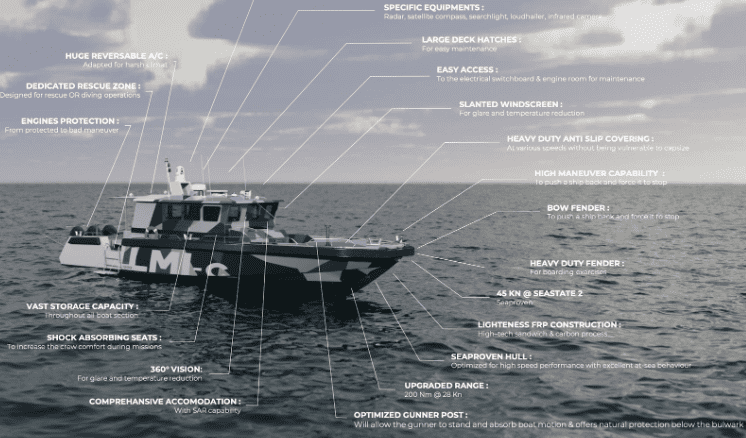 Chantier Naval Couach has revealed the 1200 LMI (Light Modular Interceptor), a modular military interceptor, convertible into a fast patrol vessel, capable of reaching a maximum speed of over 65 knots. The 1200 LMI was unveiled during the company's participation at EURONAVAL 2022.
The 1200 LMI responds to a recurring demand, widely expressed by Navy forces, commandos and coastguards, for a light and ultra-fast platform to carry out a wide range of missions: coastguard operations, protection of critical infrastructures, interception of go-fast operations, surveillance and search and rescue missions or elite troop drops.
To meet these new operational requirements, Chantier Naval Couach has unveiled a new modular platform by design, from the engine to the exterior and interior spaces. With an overall length of 13.95 meters in its largest configuration, the 1200 LMI carries from 2×200 to 4×400 horsepower, an open or closed wheelhouse, and vast storage and/or salvage spaces.
Modular, the 1200 LMI is also modular in its equipment. Radars, satellite compass, infrared cameras, search lights, but also medical equipment in its MEDEVAC version, are available to meet its different missions, highlighting the integration and flexibility capacity of the shipyard. Thanks to its air conditioning and tilted windshield, the 1200 LMI is ready for extreme heat to protect crews.
In all its configurations, the vessel is uncompromisingly fast: the 1200 LMI can reach a maximum speed of 65 knots – 45 knots in sea state 2 – with a large maneuvering capacity with a turning radius of 10 meters. Its tanks guarantee a range of up to 200 nautical miles at a speed of 28 knots, for missions lasting approximately one day. The crew can be reduced to 2 people while the total capacity is 10 passengers. In its standard configuration (see plan below), the crew composed of 4 persons in the wheelhouse benefits from suspension seats to improve comfort during high speed navigation.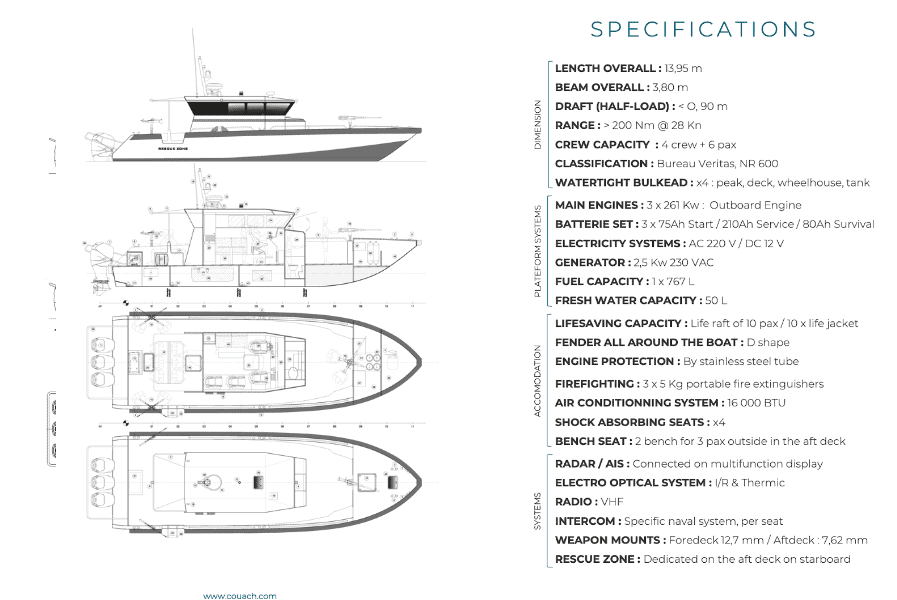 The 1200 LMI benefits from all the experience of the Couach Shipyard in composite construction (Glass, Kevlar, Carbon), which lightens the ship and guarantees its speed, while preserving a great robustness and the absence of maintenance (no painting).