CCP Gransden is undertaking the U.K'.s first Defense Technology Exploitation Program (DTEP) approved project, collaborating with Thales and Ulster University to replace an existing metallic canister with an advanced composite canister in a specialist defense product.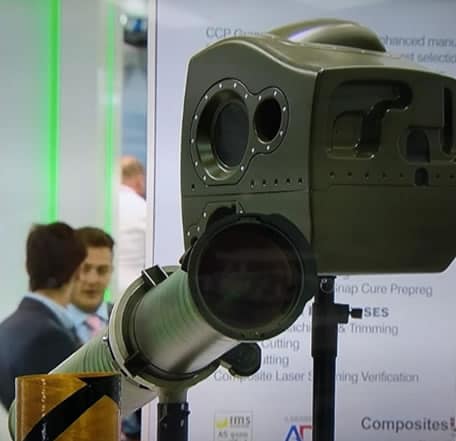 DTEP is being jointly supported by Invest Northern Ireland (INI) and the Department for Business, Energy, and Industrial strategy (BEIS), and is being run in Northern Ireland, serving as a pilot for the new U.K.-wide DTEP, the Defense sector's proposed equivalent to NATEP.
This project builds on Thales, Ulster University, and CCP Gransden's history of collaboration on defense canister technology. In 2015, all three parties worked in a Northern Ireland Advanced Composites and Engineering Centre (NIACE) technology hub filament winding project, leading to further development on the Thales Starstreak canister. After delivering positive results, CCP Gransden was in 2018 awarded the full production contract for Thales' Starstreak canisters. CCP Gransden have to-date produced 100% of the Starstreak canisters on-time, with 100% quality.
The DTEP project will see performance improvements provided through a new advanced composite canister system to upgrade another high-value product in Thales' defense portfolio. The project is scheduled for an 18-month duration, 46% funded by INI, and 15% funded by Thales.
It is anticipated this DTEP project will deliver innovative technological solutions which CCP Gransden can use to win new business across the world, with positive results for the pilot scheme allowing it to be scaled up, and rolled out across the wider U.K. defense network.
"This is an excellent opportunity for CCP Gransden to showcase [its] extensive composite expertise," said Tony Millar, project manager for the DTEP project at CCP Gransden.
"The objective is to deliver a more robust, light weight solution to Thales by using the most up to date materials and technologies available."
Mr Leslie Orr, Director of ADS Northern Ireland, stated "As we seek to further grow the defense industry in Northern Ireland, it is great to see innovative SMEs like CCP Gransden using DTEP to exploit new technologies for the sector. It is also very welcome to see defense primes like Thales and universities developing the local supply base."
Ulster University boasts a long and successful heritage of creating value from research knowledge. This strong track record in research and innovation continues to address real-world issues of both local and global relevance.
With a 60-year heritage in world class engineering, the Thales Group in Belfast is the leading high technology company in Northern Ireland, employing around 500 people in the defense and space sectors and supporting employment and prosperity through the local supply chain.
CCP Gransden has one of the U.K.'s largest selections of advanced composites processes in-house. Key specialties include continuous overmoulding and single stage overmoulding of thermoplastic composites, resin infusion including HPRTM, 7 axis filament winding, automated manufacturing cells to produce at high-rates, and in-house supporting equipment to respond faster, delivering the optimum solutions.
CCP Gransden's services are also enhanced through a range of key accreditations, high security, exceptional quality controls, excellent simulation and manufacturing software, integrated data capture, and full product traceability (birth certificate).