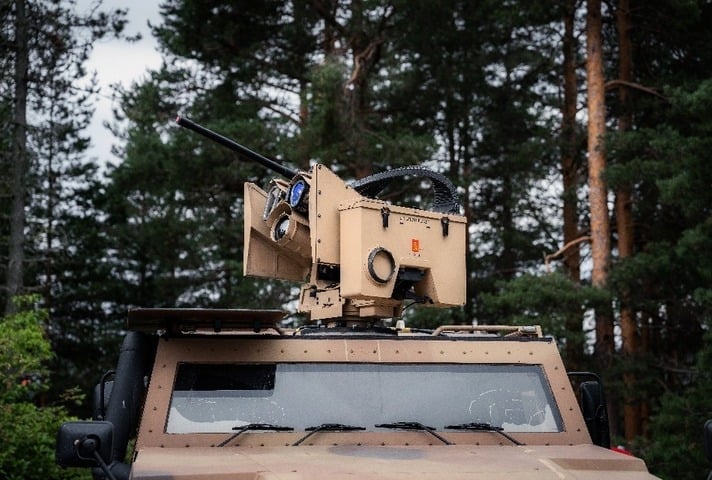 Three contracts worth more than £90 million to deliver air defense equipment to Ukraine have been signed by the MoD on behalf of the International Fund for Ukraine (IFU).
These include a £56 million counter-uncrewed aerial systems (UAS) contract with Norwegian defense company Kongsberg and two more contracts to provide further air defense capabilities.
The contract with Kongsberg will purchase vehicle-mounted counter-drone systems to detect, track, destroy or disrupt UAS. The CORTEX Typhon system is designed to be operated by as few as two users, and can be rapidly deployed and repositioned to maximise its operational effectiveness. The system can operate individually, or as part of an integrated network, and will use a complex suite of sensors, cameras, radars, and electronic surveillance equipment to allow it to physically destroy or disrupt drones.
Defence Secretary Ben Wallace said: "These air defense systems have the capability and flexibility to be rapidly deployed to either protect Ukraine's civilian population and infrastructure, or be put to use on the frontline. The International Fund for Ukraine highlights the unity and resolve of our Allies to work together to provide Ukraine with cutting-edge equipment to meet its capability requirements."
Awarded by the MoD's procurement arm, Defence Equipment & Support, these contracts are part of procurement packages announced by IFU defense ministers earlier this year to supply air defense capabilities, drones, radars, and electronic warfare systems to Ukraine.
The contracts come as a new delivery of aerial reconnaissance drones arrives in Ukraine, designed to carry out both land and sea-based reconnaissance missions.
The Armed Forces of Ukraine have already begun training on the systems, which will form a package of more than 100 drones.
The UAS delivery comprises multiple types of drone for different roles, including target acquisition, electronic warfare, guiding artillery, and night operations.
Find C-UAS Equipment manufacturers and suppliers of Counter-Drone systems and technology for military and defense applications > >