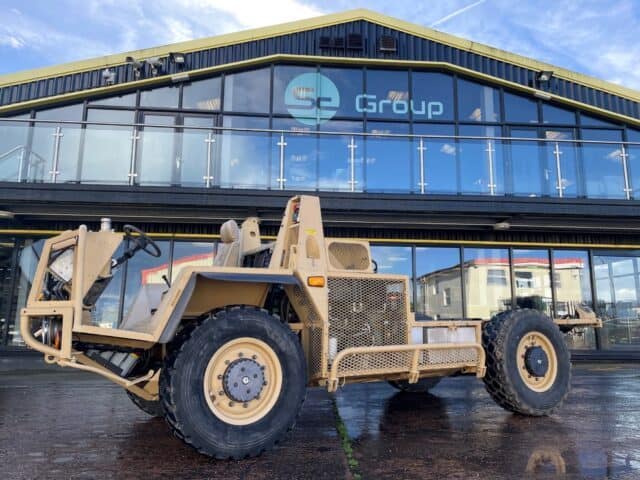 As part of the Protected Mobility Engineering & Technical Support (PMETS) Contract, Supacat and NP Aerospace have repurposed a number of Improvised Explosive Device (IED)-damaged High Mobility Truck Variant (HMTV) vehicles for UK Ministry of Defence training.
The vehicles have been repurposed by the companies' engineering teams for the Defence School of Electrical and Mechanical Engineering (DSEME) in Lyneham, introducing a simulated training aid that will improve MoD vehicle knowledge and contribute to continued safety improvements.
The project involved the collection, strip-down, refurbishment and rebuild of three HMTV vehicles to provide five training aids including four static and one mobile skeletonized module. These will be used to assist apprentices and qualified technicians on various courses run by DSEME.
The initiative has enabled two HMTV Platforms previously used for training to be returned to the field Army for operational use and has increased the number of in-service vehicles.
"The objective of the UK MoD Protected Mobility Engineering & Technical Support Contract is to deliver vehicle upgrades and improvements that drive enhancements in safety and performance capability across the fleet, whilst introducing new innovations and sustaining proven platforms," said David Petheram, Chief Operating Officer, NP Aerospace. "The new HMTV training aids developed with Supacat are a great example of vehicle reuse and engineering innovation for the benefit of improving expertise and knowledge."
"The HMTV platform is a proven platform for use in harsh environments," said Phil Applegarth, Director of Supacat. "By refurbishing damaged vehicles and upgrading them with the latest improvements for training, we are able to demonstrate our commitment to ensuring MoD teams are knowledgeable about their equipment, which ultimately keeps crew safe and maximizes training or operational availability."