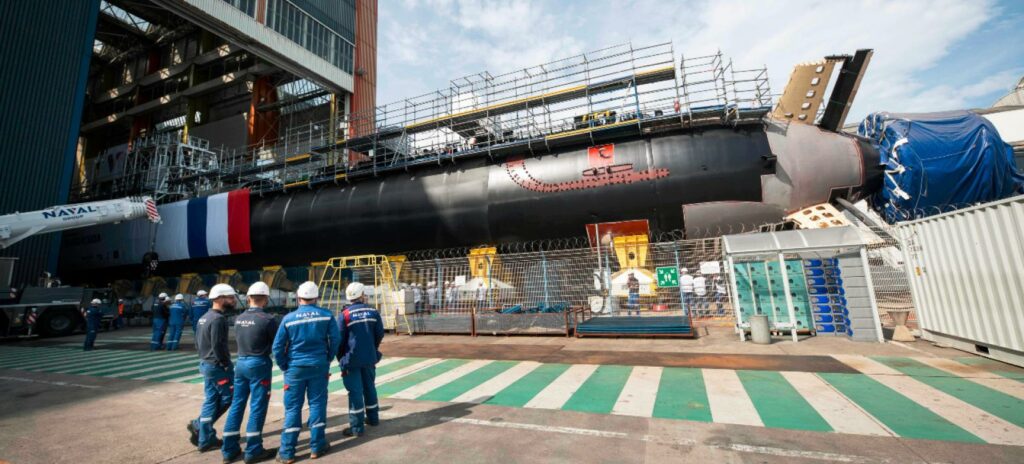 The third Barracuda-class nuclear attack submarine (SSN) Tourville has left its construction hall in order to be transferred to the DME floating platform-type shiplift.
It is part of a series of six SSNs that will gradually replace the submarines of the Rubis-class currently in service within the French Navy.
The rollout is a key step in the program's progress which will lead to the beginning for its sea trials in 2024. Prior to this, completion work and initial quayside tests will be carried out.
"A real series dynamic has been created," said Pierre Eric Pommellet, Naval Group CEO. "The rollout of the third Barracuda submarine is a major milestone for Naval Group and all its partners, in particular TechnicAtome and the CEA (French Atomic Energy and Alternative Energy Commission). We are fully committed to this major program, which we are proud to lead on behalf of the DGA and the French Navy, and which will provide France with an unrivalled defense tool. This event is a reminder that French industry is proudly at the service of our armed forces. I salute the commitment of all the men and women involved in making this program a success."
Naval Group is in charge of the production of these submarines, from their design to their construction, as well as the manufacture of the main components of the nuclear boilers which are developed and produced with TechnicAtome. The group is also in charge of providing logistical support and maintaining the submarines in Toulon.
The Barracuda-class submarines will provide the French Navy with a deep strike capability thanks to MBDA's naval cruise missiles (NCM). They are also equipped with the F21 heavyweight torpedo produced by Naval Group and the SM39 anti-ship missile from MBDA. These SSNs also allow the discreet deployment of Special Forces underwater, in particular thanks to its "divers hatch" and the optional carrying of a dry deck shelter allowing for the deployment of underwater vehicles.