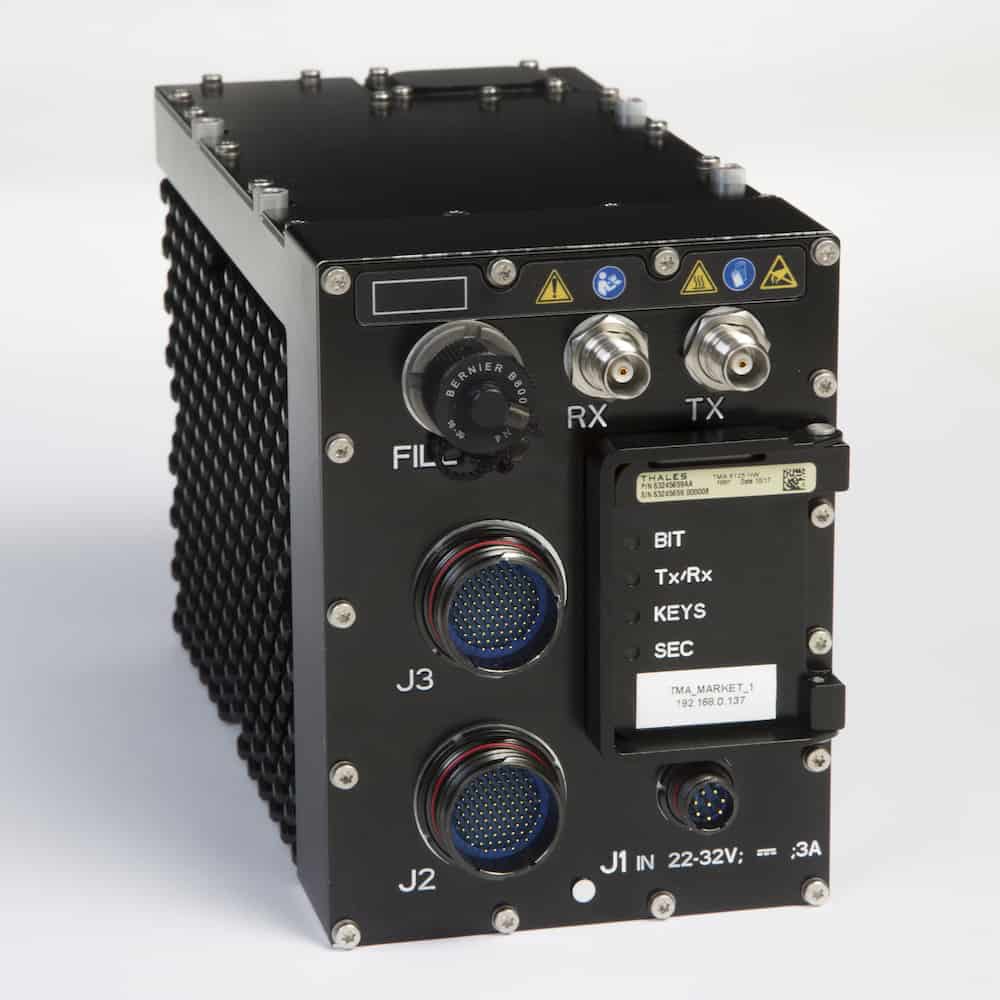 Thales' TMA 6000 very high-speed datalink terminal has been certified compliant with Implementation 2 of the NATO standard STANAG 7085 (European standard) following successful testing by the French defence procurement agency (DGA).
The TMA 6000 had already been certified compliant with STANAG 7085 Implementation 1 (Common Data Link) by the US Joint Interoperability Test Command (JITC) in late 2014.
The new certification makes the TMA 6000 the first, and currently only, datalink terminal to comply with both implementations of STANAG 7085.
In air combat and allied operations, increasingly large volumes of data need to be shared securely and rapidly among allied users. The TMA 6000 is a high-data-rate Line-Of-Sight (LOS) datalink terminal operating in the NATO Ku band. Combined with an antenna system and amplifier, it transmits real-time data gathered by sensors on board aircraft (video streams and images as well as radar and electromagnetic data) to ground or naval stations hundreds of kilometers away.
STANAG 7085 ensures interoperability for NATO forces and it allows NATO allies to exchange raw data gathered by airborne sensors. STANAG 7085-certified datalink systems help shorten the OODA (Observe, Orient, Decide, Act) loop, allowing armed forces to leverage all available information, consider possible options and rapidly make the best decision to gain an advantage over the adversary.
The TMA 6000 is in service on a wide range of high-value aircraft and naval vessels, including combat aircraft such as the Rafale, special-mission aircraft such as the ALSR2, helicopters, combat Unmanned Aerial Vehicles (UAVs), Medium-Altitude Long-Endurance (MALE) UAVs, tactical UAVs, aircraft carriers and frigates.
"Thales's TMA 6000 has been tested in extreme environments and meets the highest military standards. It is the world's most reliable field-proven data communication system for large platforms," said Bruno Kerjean, head of development for TMA and micro-TMA datalink terminals, Thales. "Backed by more than twenty years of engineering work across three generations of products, the TMA 6000 offers an extremely reliable and robust European datalink solution. With dual compliance, it is ready to meet the most demanding requirements of the platforms of tomorrow."