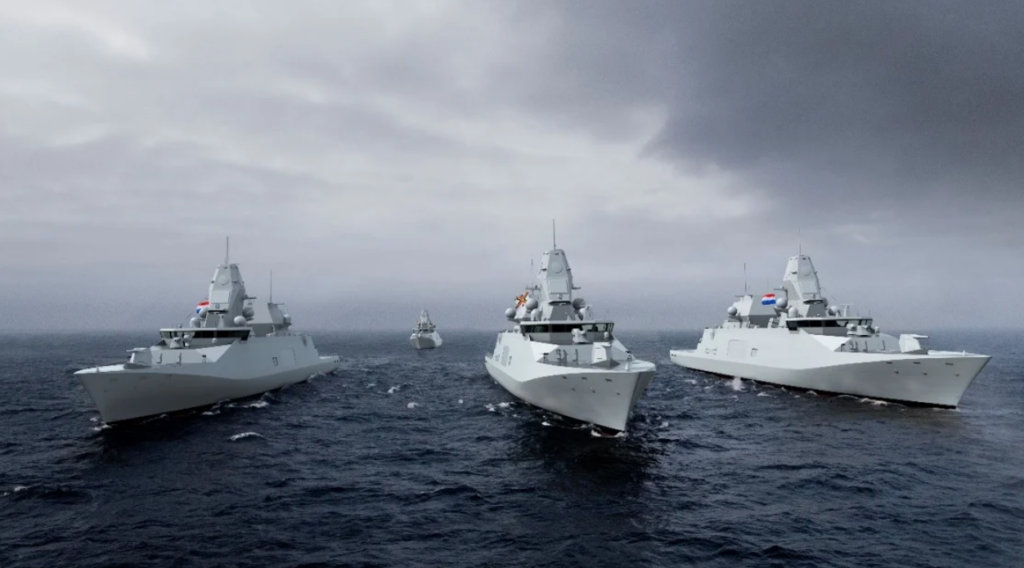 The Dutch Command Materiel and IT (COMMIT) and Thales have signed a contract for the production and delivery of the Above Water Warfare System (AWWS) fire control cluster and sensor suite for four new Anti-Submarine Warfare (ASW) Frigates that Damen Naval will build for the Belgian and Netherlands' Navies.
Valued at several hundreds of millions of euros, this contract illustrates Thales's leading position worldwide in naval fire control and sensor technology. It will be executed by Thales's naval Centre of Excellence in Hengelo, the Netherlands.
Thales will deliver the AWWS fire control cluster that continuously generates the best solution for each approaching threat in every environment. AWWS is a cutting-edge warfare suite that helps the ship's crew to counter and neutralize high-velocity and complex saturation attacks by continuously analyzing and optimizing the tactical environment and deployment of resources. This integrated radar and fire control system combines the information from several sensors, including radars.
The new sensor suite uses Thales' latest technology based on the APAR Block 2 X-band and the SM400 Block 2 S-band radars integrated in a one-radar system that is able to reconfigure its tasks dynamically.
In addition to AWWS, Thales supplies the Mirador Mk2 electro-optical fire control sensor, the Gatekeeper Mk2 electro-optic observation sensor, the Scout Mk3 low detectability naval surveillance radar as well as an extensive logistic support package.
The first ship will be operational in 2029. The ASW frigates will replace the Belgian and Netherlands' multi-purpose frigates of the Karel Doorman class that are reaching the end of their lifecycle.
The ships will operate in a complex multi-mission environment, with anti-submarine warfare as their main task. The frigates need to be able to independently defend themselves and other units with a state-of-the-art fire control system as above water threats are exponentially increasing in complexity, coordination and speed. Thales systems, cyber-protected by design, will protect the Dutch and Belgium frigates from sophisticated threats such as hypervelocity missiles and swarm attacks.
Christophe van der Maat, Netherlands' State Secretary for Defence, said: "The procurement of the ASW Frigates is realized in the best possible way: through intensive cooperation between countries, armed forces and industry. The result will be an innovative and powerful weapon system. That is beneficial to us as direct users but also to Europe and NATO."
Admiral Arie Jan de Waard, commander of COMMIT, said: "Thales' AWWS fits in perfectly with our priority, guaranteeing the availability of material and the safety of our personnel. The threats that this new generation of frigates may be confronted with require the support of a defence system with AI capabilities. As the navies of Belgium, the Netherlands and Germany will have the same fire control cluster on their new ships; this contract will facilitate international cooperation." ​
Arnout Damen, CEO of Damen Shipyards Group, commented: "This is a wonderful project and a special new chapter for our Damen Naval division. We are proud to be building these beautiful frigates and look forward to working with the many, mostly Dutch, partners and suppliers on this project. With these launching customer projects, we retain vital knowledge in our own country and thus maintain our place in the world's top tier of complex naval construction. More importantly, the crews of the Dutch and Belgian navies get state-of-the-art frigates to carry out their crucial tasks."
Gerben Edelijn, CEO of Thales in the Netherlands, added: "We are delighted that, once again, Thales was selected to provide the fire control capability and sensor suite for a new class of frigates for the Belgian and Royal Netherlands Navies. The crew of the ASW frigates can rely on our ultramodern Above Water Warfare System that forms an effective defence against present-day and future threats. With most Western European navies relying on Thales technology, we play a valuable role in international cooperation and the security of Europe."
Find Military Fire Control Systems (FCS) manufacturers and suppliers of weapons targeting and tracking technology for defense applications; army, navy marine and air force >>