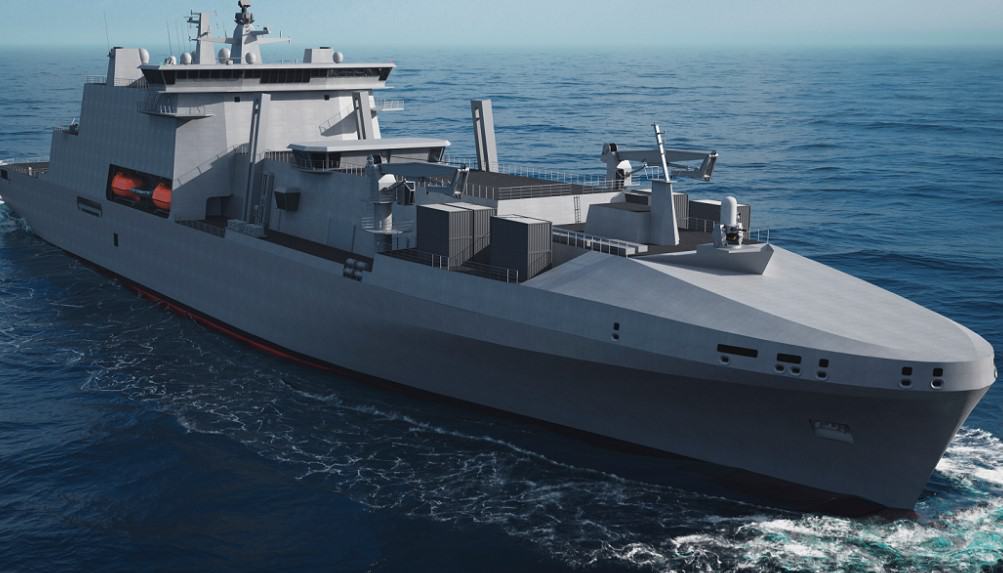 A £1.6 billion contract has been awarded to Team Resolute to manufacture the vessels providing munitions, stores and provisions to the Royal Navy's aircraft carriers, destroyers and frigates.
As part of the agreement, Team Resolute, comprising of BMT, Harland & Wolff and Navantia, will deliver three Fleet Solid Support Ships for the Royal Fleet Auxiliary (RFA).
Set to invest around £100 million into UK shipyards, including £77 million of infrastructure at Harland & Wolff's Belfast and Appledore shipyards, and a further £21 million in skills and technology transfer from Navantia, Harland & Wolff is expected to create one of the most advanced shipyards in the UK, significant for future export and domestic shipbuilding.
Expanding and enhancing Harland & Wolff's shipbuilding facilities, the FSS fleet will be the first ships built by Harland & Wolff in Belfast since MV Anvil Point was launched in 2002.
The majority of the blocks and modules for the ships will be constructed at Harland & Wolff's facilities in Belfast and Appledore, following the entirely British crafted design by the Bath-based company BMT. Build work will also take place at Navantia's shipyard in Cadiz in Spain, with the final assembly for all three 216-metre-long vessels to be completed at Harland & Wolff's Belfast yard.
Defense Secretary Ben Wallace, said: "This contract is a significant boost to the UK's historic shipbuilding industry, balancing shipbuilding across the Union. Creating jobs and prosperity, Team Resolute is bringing shipbuilding back to Belfast, developing a modern, resilient and thriving shipbuilding industry that will support naval and commercial shipbuilding into the future."
On behalf of Team Resolute, Group CEO of Harland & Wolff, John Wood, commented: "This programme will bring £77 million of investment into the Harland & Wolff shipyards and create around 1,200 Harland & Wolff shipyard jobs, spring boarding Harland & Wolff back into the naval shipbuilding sphere and significantly enhancing our export opportunities for the future. This is the last chance to capture the excellent shipbuilding skills that remain in Belfast and Appledore before they are lost and pass them on to the next generation of UK shipbuilders. UK Government has seized this opportunity and in doing so ensured the long-term survival of our shipyards and significantly bolstered sovereign shipbuilding capability."
Secretary of State for Northern Ireland, Chris Heaton-Harris, commented: "The award of this major UK Government contract is fantastic news for Northern Ireland and the UK shipbuilding industry. Harland and Wolff is iconic worldwide for its shipbuilding history, and the creation of hundreds of jobs through this contract as well as training opportunities will ensure that Belfast remains a key player in the shipbuilding industry of the future."
Unite Union Representative, Joe Passmore, added: "This is an historic moment for shipbuilding in Belfast. We campaigned for Harland & Wolff with a view to bringing new infrastructure and knowledge into our shipyards, and FSS will create jobs, skills and opportunities for young people in Northern Ireland. We continue to wrestle with a capacity shortage in shipyards and we believe that by unlocking the full potential in Belfast, we can help to secure a bright future for shipbuilding in the UK."
The development is expected to create 1,200 UK shipyard jobs, hundreds of graduate and apprentice opportunities, and a further 800 jobs across the UK supply chain. With around 900 jobs alone to be created at Harland & Wolff's Belfast site, the contract awarded by Defense Equipment and Support, is seen as a welcome boost for Northern Ireland, bringing naval shipbuilding back to Belfast.
Production is due to start in 2025, with recapitalization and yard improvements starting immediately. All three support ships are expected to be operational by 2032.