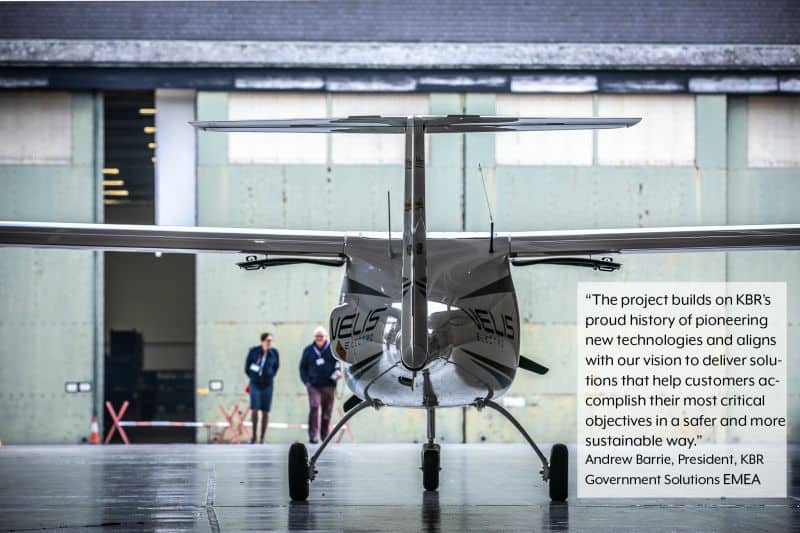 Through its Affinity Capital Works Limited Joint Venture with Elbit Systems UK, KBR has embarked on a series of electric aircraft test flights for the UK Ministry of Defence (MoD) to assess the feasibility of environmentally friendly alternatives to current military aircraft.
The concept of trialing zero emissions aircraft was brought to the MoD through Affinity – demonstrating its commitment to providing innovative solutions for the UK Armed Forces and addressing the needs of the future to help realize net-zero ambitions in line with the MoD's green transformation.
The test flights will help the Royal Air Force (RAF) assess the technology of electric aircraft, determine its effectiveness as an impactful pilot training capability, and explore the implications on functional areas like aircraft and airfield operations on the ground and while flying, logistics support and infrastructure, as well as safety.
The flights will use a fully certified two-seater pilot training aircraft, the Velis Electro. Flight and safety assurances were developed during the summer of 2021, which was organized and delivered through Affinity, in partnership with the UK Civil Aviation Authority.
The program began with test flights in December 2021 ahead of the aircraft joining Affinity's existing fleet at RAF Cranwell, where up to twenty additional pilots will fly the sustainable, eco-friendly aircraft in the coming months.
"We are tremendously proud to support this initiative," said Andrew Barrie, President, KBR Government Solutions EMEA. "The project builds on KBR's proud history of pioneering new technologies and aligns with our vision to deliver solutions that help customers accomplish their most critical objectives in a safer and more sustainable way."