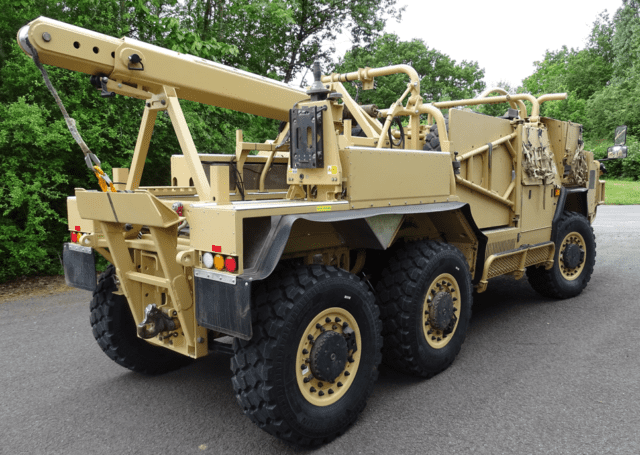 Supacat and NP Aerospace are working together to progress the development of new Lightweight Recovery Vehicles (LWRVs) for the British Army; a conversion of Supacat's globally recognized High Mobility Transporter (HMT) platform.
A total of four Supacat LWRVs are due to be released to the British Army in Spring 2023 – fulfilling a requirement for off-road capability in environments such as those seen in Mali, Africa, during Operation Newcombe.
The vehicle development is part of the UK Ministry of Defence (MoD) Protected Mobility Engineering & Technical Support (PMETS) contract led by NP Aerospace and contracted vehicle OEMs and partners.
According to Supacat, the LWRV fills a capability gap for a recovery vehicle with the off-road performance to follow the routes of the British Army's HMT 'Jackal' and 'Coyote' vehicles, also developed by Supacat.
The new solution will utilize four in service Jackal 2 with the addition of Supacat's innovative 'Extenda' removable third axle to provide the recovery module and configure the 4×4 Jackal 2 as the 6×6 Coyote.
The LWRV solution also introduces Supacat's patented Supalift recovery system technology that will allow the recovery of the Foxhound and HMT platforms.
The modular design allows the new recovery vehicles to be returned to either Jackal 2 or Coyote with the respective removal or addition of the recovery module. It also offers the flexibility for further Jackal 2 vehicles, or the whole fleet, to be converted to the 6×6 Coyote.
"As engineering authority for the MoD UK Protected Mobility fleet, we are pleased to be working with vehicle OEMs and partners to deliver enhanced vehicle platforms that deliver significant operational benefits for the British Army," said David Petheram, COO, NP Aerospace. "The project has received great feedback and we look forward to delivering the capability over the coming weeks."
Phil Applegarth, Director and Head of Supacat, added: "We are proud to be able to deliver a solution that not only fills an urgently needed capability gap, but HMT's modular design demonstrates its flexibility such as integration of Supalift's game changing technology in extending the lifting capability of light vehicle recovery systems for the Army."