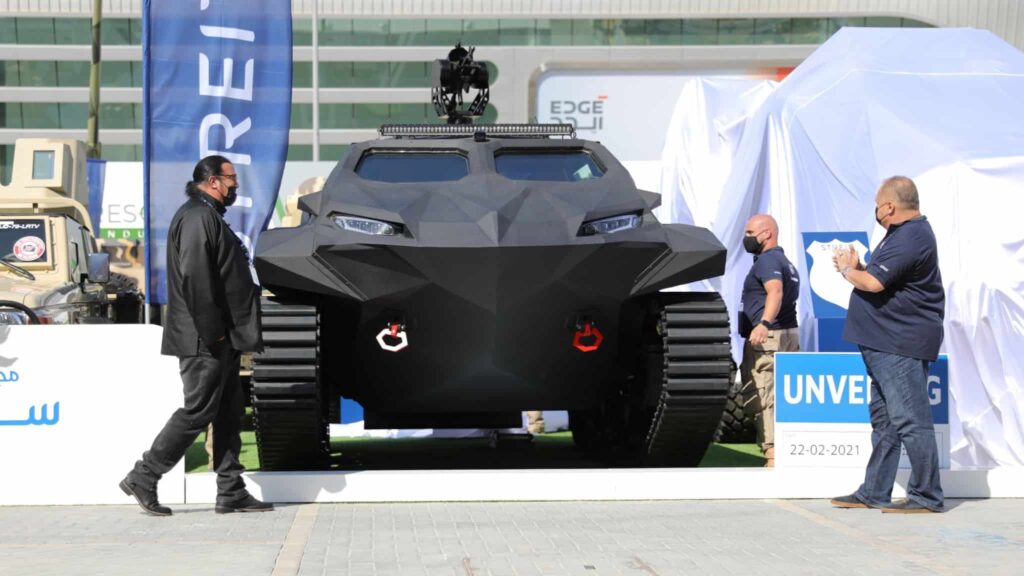 Four brand new vehicles have been launched at IDEX 2021 by UAE-based STREIT Group, including STORM – a fully electric multi-purpose tracked vehicle.
STORM is STREIT Group's first tracked vehicle and the first ever fully electric tracked vehicle manufactured in the UAE. "This step is a huge step for the company and we are proud to have achieved this milestone", commented Guerman Goutorov, STREIT Group's Chairman.
STORM is fully electric but also comes with additional generators. It is designed to be used for a wide range of specialist military and civilian purposes. Built for the harshest environments, the vehicle offers exceptional mobility, reliability and features the latest technologies in ballistic, IED and mine blast protection. Due to the versatile nature of the vehicle, the STORM is not only completely silent but can be configured with amphibious and sea floating capabilities. The STORM can be configured with remote control systems allowing for autonomous operations.
The second vehicle to be unveiled was the DHABI, a state-of-the-art MRAP. "The DHABI combines the best technology from around the world and was specially designed for the needs of the UAE Armed Forces and their efforts to achieve and maintain stability in the region", Goutorov explained.
The DHABI's V-shaped hull helps to deflect blast waves and debris away from the crew compartment. The lifted body and increased ground clearance enhance its protection against mines. With STANAG III adaptable blast and ballistic protection as a standard, and up to STANAG IV with add-on plates, DHABI comes at an advanced price but also advanced technology. DHABI will be used by customers in varying roles such as a mounted infantry troop carrier, ground support vehicle for dismounted troops, medical evacuation platform, long-range border control vehicle, or easily configured as a command-and-control vehicle.
Brand ambassador Steven Seagal, who assisted in unveiling the new vehicles, said "I believe in STREIT's mission to save lives around the world and am honored to unveil these vehicles which will contribute to achieving that goal.".
The third vehicle unveiled, NISR, is designed as a mounted infantry troop carrier and ground support vehicle for dismounted troops. "Our engineers spent the last 2 years developing the NISR, using the latest technology from across the globe.", Goutorov added. Its state-of-the-art approach and departure level is unheard of in its category, so is its power with 450HP, a top speed of 120km/h, and maneuverability. It can be easily configured as a command-and-control vehicle, medical evacuation platform, or as a forward observation platform (FOO). The NISR offers occupants blast protection to STANAG Level IV. It features a V-shaped monocoque armored hull design, as well as floating seats, offering advanced protection to the 10-man crew.
The final vehicle unveiled was the CONDOR – a newly designed MRAP with STANG Level 2 upgradable to STANG 3. High mobility and off-road capability mean this vehicle can be used in any hostile situation with exceptional field performance in urban as well as off-road environments. This vehicle has an 8.9 L Engine with 400 HP. CONDOR can be deployed in various missions by military and paramilitary forces.