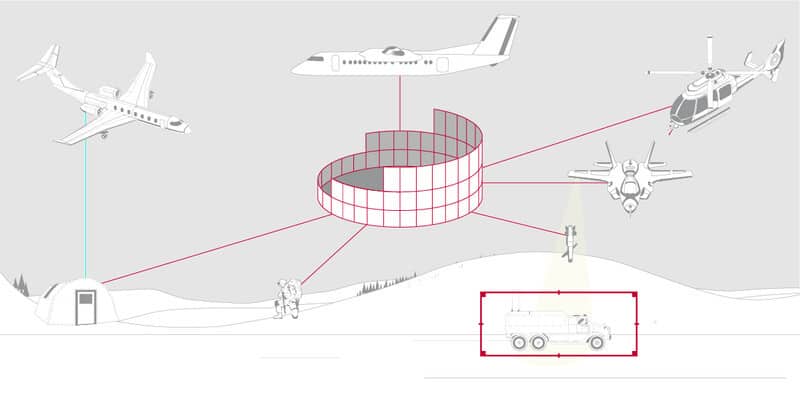 CarteNav and Meta Mission Data (MMD) have announced the integration of the MMD Spectral Tactical Data Link (TDL) software with the AIMS-ISR Mission Management System.
Announced at the Farnborough International Airshow, this integration will enable Intelligence, Surveillance and Reconnaissance (ISR) platforms to participate in the live Link 16 network with access to enhanced situational awareness, command and control and additional communication capabilities – accelerating operational and tactical decision-making.
Link 16 is the most ubiquitous TDL in use globally, providing a theater-wide secure and resilient data link that enables near real-time exchange of tactical and operational data between air, land and maritime platforms, HQ and C2 nodes. Link 16 can also provide enhanced situational awareness to the individual dismounted soldier, delivering a Common Operating Picture for all on the network.
Capable of supporting a variety of missions, spanning contested to benign operating environments to humanitarian and disaster relief, Link 16 is a crucial enabler for multi-domain integration.
ISR platforms provide the information that drives the pace of decision-making. Wherever an ISR platform is required to operate alongside Link 16 equipped entities, their ability to interact with the network is essential. Even one platform unable to connect to the Link 16 network can impact the operation – effecting timeline while degrading decision making and mission execution.
ISR operators work in high-pressure, fast-paced, dynamic environments. Without Link 16, sensor and mission system operators will continually be behind the curve in trying to maintain situational awareness by cross-referencing multiple standalone data feeds and communicating using a variety of insecure channels. Link 16 significantly reduces the risk of operator overload and tactical confusion caused by late and inaccurate information exchange.
With industry ISR platforms increasingly supporting military and government operations across the globe, an integrated Link 16 capability is rapidly becoming an essential requirement.
Through the MMD Spectral plug-in, Link 16 is fully integrated into AIMS-ISR to provide operators with Link 16 units and tracks that are georeferenced on augmented reality moving maps alongside other sensor data (e.g. EO/IR cameras). The more participants in the network, the greater the "network effect". This maximizes information advantage for the operator and decision-maker through:
Enhanced Situational Awareness:
Receipt of the Common Operating Picture
Reduced Operator Workload:
Automated sensor slew to Link 16 tracks
Configurable warnings, alerts and indications
Optimized ergonomics – reduced number of data feeds, displays and "bolt-ons"
Resilient Communications:
Transmission of own unit Precise Participant Location and Identification (PPLI) into the network
Secure Link 16 Voice
Receive and transmit Link 16 text messages
Beyond Line-of-Sight capability (via Link 16 Relay or Satellite)
"The MMD and CarteNav collaborative development has delivered an exceptional capability available to both new and existing AIMS-ISR operators. The requirement for integrated Link 16 on ISR platforms is growing," said Carl Daniels, Chief Operating Officer at CarteNav. "With MMD's Spectral Tactical Data Link, we are excited to announce yet another technological solution that is as powerful as it is accessible."
Chris Jones, Managing Director of Meta Mission Data, added, "This exciting collaboration draws on the many years of experience our ISR operators have using AIMS-ISR on global operations. By combining their intuitive understanding of the ISR mission with our TDL engineering expertise and the software teams in both CarteNav and MMD, we have created an outstanding product that will enable greater connectivity and situational awareness for previously isolated ISR platforms."