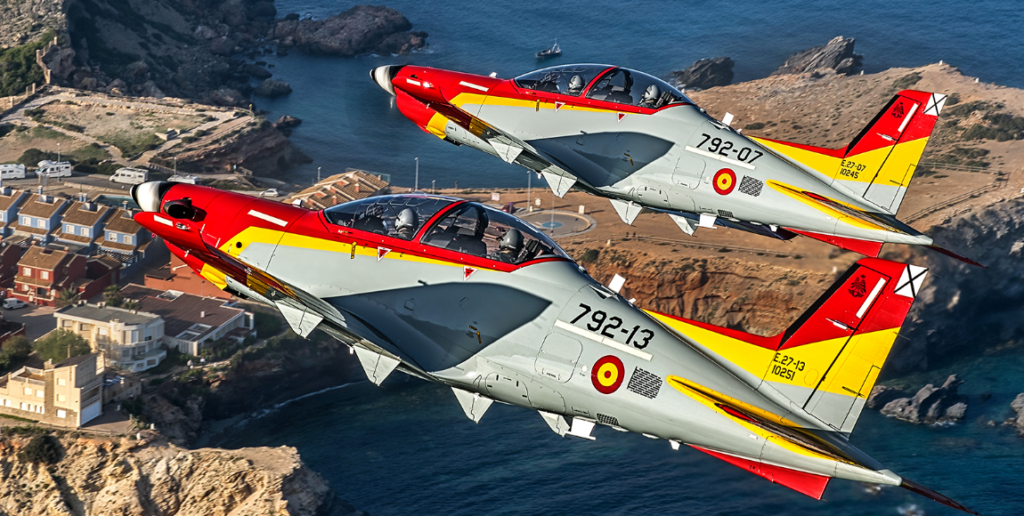 The Spanish Air Force is purchasing an additional 16 PC-21s from Pilatus, making Spain the largest operator in Europe of the turboprop-powered advanced trainer.
According to the Spanish Air Force, the order for the PC-21s will reinforce pilot training with additional Pilatus trainer aircraft. The training bandwidth of the PC-21 will also be enlarged, and in future, the PC-21 will be used for elementary training in addition to basic training.
Lieutenant Colonel Ildefonso Martínez-Pardo González, Academia General del Aire (AGA) Air Operations Group Commander, said: "Now in use with the Spanish Air and Space Force for over 18 months, the PC-21 integrated training system far exceeds our expectations. Its reliable and efficient powerplant, aerodynamics, safety systems and avionics make the PC-21 a highly versatile trainer, capable of performing any phase of flight training from the most elementary to the most advanced. Our relationship with Pilatus has been outstanding throughout, and a key factor for successful implementation. The excellent collaboration, professionalism and teamwork of everyone involved over the past three years have enabled us to roll out this PC-21 training course in record time without interruption to training."
PC-21 & Simulators
The Academia General del Aire (AGA) in San Javier will receive 14 PC-21s. An additional two PC-21s will also be delivered to the Centro Logistico de Armamento y Experimentacion (CLAEX). These two PC-21s will be used for experimental, flight test training, and research and development activities. The aircraft will be based in Torrejon near Madrid. The package also includes a PC-21 simulator, two cockpit procedure trainers, additional mission planning and debriefing systems as well as pilot training software.
Markus Bucher, CEO of Pilatus, commented: "What could be better than a customer who buys again from to Pilatus. Spain is an extremely renowned, professional air force. As such, Spain's decision is a testimony to the capabilities of our training system. It is the most advanced, most efficient training system available on the market."
Andre Zimmerman, VP Government Aviation at Pilatus, added: "Over the last few years, we have built an excellent relationship with the Spanish customer and are now very pleased to help them enhancing their training skills with this follow-on order of PC-21 aircraft and associated Ground Based Training Systems. This proves once again that Pilatus is producing and delivering first class products to satisfy the high requirements of our customers."
PC-21 – an efficient training system
The completely newly developed PC-21 offers a highly efficient, intelligent platform for training jet pilots. To meet all expectations, the PC-21 has extremely high equipment and performance features. They enable the single-engine turboprop to perform a range of missions previously reserved exclusively for jets. The PC-21 is believed to be more cost-effective and fuel-efficient to operate than a jet trainer. Experience with existing PC-21 customers show that with the Pilatus Training System, the cost of training a future military pilot can be reduced by over 50 percent.
Find suppliers & manufacturers of Pilot Training Simulation & Services >>