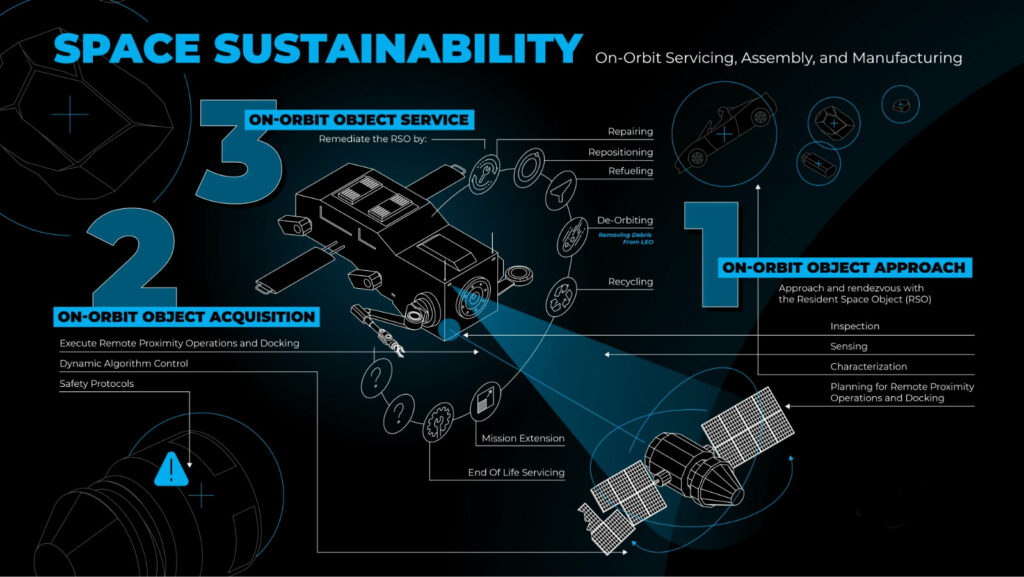 Scientific Systems has been selected by SpaceWERX for an $1.5 million STTR Phase II contract, under the SpaceWERX Orbital Prime Program.
Scientific Solutions' vision-based solution, for US-RIPTIDE (Unknown Satellite Realtime Inspection, Pose, Tracking and IDEntification), focuses on enabling In-space Service Assembly and Manufacturing (ISAM) capabilities being explored by the Department of the Air Force (DAF) and United States Space Force (USSF) through the Orbital Prime program.
Orbital Prime was created to accelerate the commercial In-Space Servicing, Assembly and Manufacturing (ISAM) market toward a use case of Active Debris Remediation. The Air Force Research Laboratory and SpaceWERX have partnered to streamline the Small Business Innovation Research (SBIR) and Small Business Technology Transfer (STTR) process by accelerating the small business experience through faster proposal to award timelines, changing the pool of potential applicants by expanding opportunities to small business and eliminating bureaucratic overhead by continually implementing process improvement changes in contract execution.
Scientific System's contract is in one of 20 STTR Phase II contracts awarded by SpaceWERX, each valued at $1.5M per contract, for a total of $30 million awarded to the Orbital Prime Cohort, which also includes recent D2P2 SBIR awardees. Through these awards, the cohort will continue to explore ISAM capabilities and technologies relating to identifying, approaching, and servicing an object in space. The Orbital Prime program will culminate with an on-orbit mission to demonstrate active space debris remediation, a public purpose use case intended to stimulate the market for space logistics.
"This award puts us on a path to create 'RPO-in-a-box.' That is, a stand-alone, modular hardware plus software product that rapidly integrates onto a servicing vehicle to ensure that vehicle approaches a client satellite safely, or the inverse, where that product provides a client vehicle the ability to ensure a satellite approaches it safely," said Dr. Owen Brown, Vice President of Solutions Development at Scientific Systems. "We have ample confidence in this productization approach, since we applied it in the air domain with our sense-and-avoid modular product, OASES, which rapidly integrates onto unmanned aircraft to provide safety of flight capabilities. Furthermore, we are very excited to continue this work along with our academic partner, Stanford University, and their Space Rendezvous Laboratory."
"We're very excited to work with Scientific Systems and the Space Force on this project. By integrating our machine-learning based relative navigation approaches with unique algorithms being created by Scientific Systems, I believe we're creating new capabilities for the rapidly developing on-orbit servicing and manufacturing ecosystem," commented Prof. Simone D'Amico, Founder and Director of the Space Rendezvous Laboratory at Stanford University.
"This proposed solution will provide an out-of-the-box solution to enable next-generation autonomous satellite operations for close-proximity interactions like satellite inspection, a precursor to ISAM operations and debris removal. I'm really looking forward to working with Scientific Systems and Stanford on developing and transitioning this technology," added Dr. Sean Phillips, Deputy Technical Advisor of the Space Control Branch and the Resilient Multi-Satellite Autonomy Technical Lead at the Air Force Research Laboratory.