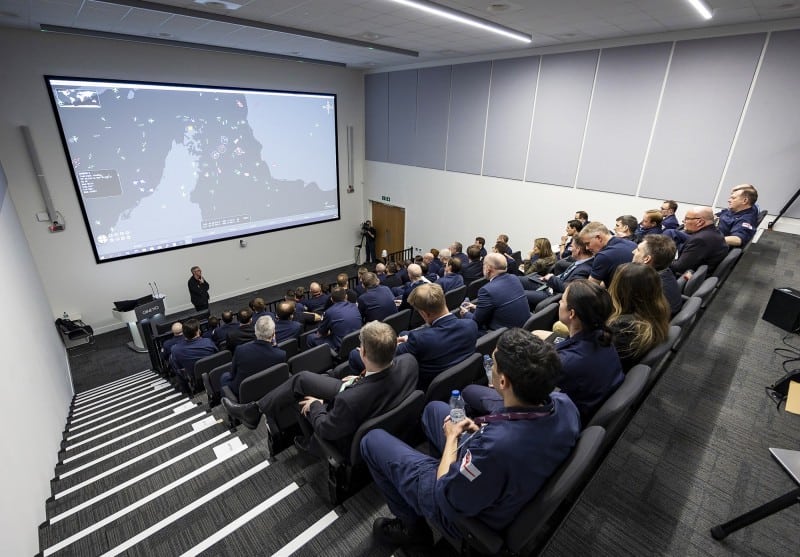 A team from Inzpire, QinetiQ and BAE Systems Maritime has signed a contract with the Royal Navy to deliver the next concept demonstration phase of the synthetic training solution Platform Enabled Training Capability (PETC) in 2023.
In Phase 1 of PETC, QinetiQ and Inzpire demonstrated the ability of the operational crew of a Royal Navy platform, HMS Kent, to train in its own operations room, simulating a realistic warfighting situation in an immersive environment.
Utilizing secure communications links from Portsdown Technology Park, Portsmouth, the QinetiQ-Inzpire team generated the synthetic training environment that, through advanced sensor emulators, was fed directly into the combat system of the ship. This enabled Inzpire's White Force* to implement and direct a training scenario to demonstrate the benefit to the ship's operations room team.
Phase 2 of PETC will allow the Royal Navy to undertake combined simulated warfare training as a carrier task group, while geographically dispersed. This will involve use of BAE Systems' digital twin of the combat system, facilitating faster transition in and out of the training environment.
The combined industry team will simultaneously emulate the combat systems of multiple platforms in the carrier task group, including the Queen Elizabeth Class aircraft carrier, enabling them to work together in a common, simulated threat environment.
This next phase will demonstrate an adaptive solution that enables key warfighting elements of the platforms to be tested in a far more complex and realistic environment than can be represented in live training.
"Phase 2 of PETC brings together key capabilities from QinetiQ, Inzpire and BAE Systems to accelerate the demonstration of synthetic collective training to our crews, ensuring they are ready for the demands of a future warfighting environment," said Captain Paul Brooks, Senior Responsible Owner, Defence Operational Training Capability (Maritime) (DOTC(M)), of the Royal Navy. "It will help us to understand how this training capability fits into the wider DOTC(M) program."
"This next phase enables the simulation of high-end warfare and the required interaction between the platforms that is not possible in the live environment," said Christina Balis, Global Campaign Director, Training and Mission Rehearsal at QinetiQ. "In addition, enabling the crew to train while they are on deployment is more cost-effective for the Royal Navy than training ashore, as they can combine the training with other elements of the deployment. As with Phase 1, it is great to see the capabilities at Portsdown Technology Park, combined with Inzpire's White Force, being used to accelerate the delivery of capability to the Royal Navy."
"This next phase of PETC will prove the effectiveness of high fidelity synthetic collective training using our digital twin technologies for the combat system, sensors and effectors, to enable the Royal Navy to safely train on-board as individual ships and as part of a wider task group," said Neil Stewart, Head of Training Services Group at BAE Systems. "It is an important stepping stone to providing an enduring capability to the Royal Navy for both alongside and at-sea collective synthetic training and mission rehearsal, to help them deal with today's rapidly evolving multi domain threat landscape."
---
*White Force: A training White Force works closely with customer organisations, to design, implement, control and facilitate de-brief of complex multi-faceted military training events.