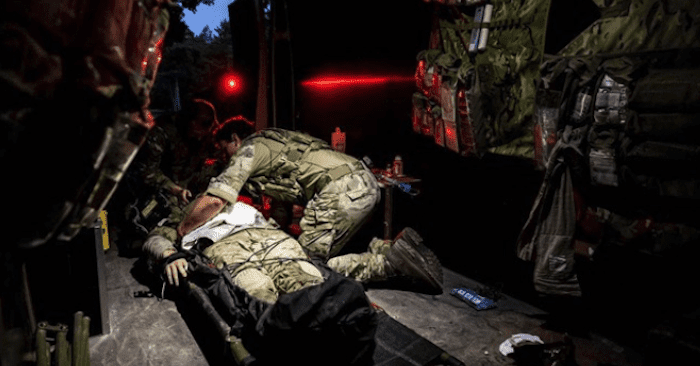 U.K. Royal Navy medics have been testing new ways of supporting and treating small teams of Royal Marines as they carry out missions deep in enemy territory.
A major part of the developing way in which Royal Navy commandos will work is based on teams of up to 12 green berets working separately from one another to complete operational objectives. These tactics pose problems to medical teams who are responsible for providing care to the commandos as they operate around the world, in extreme environments.
The newly-formed prehospital treatment team (PHTT) from Royal Marines 45 Commando has used the unit's deployment to the Baltic with the Littoral Response Group (North) as an opportunity to hone how it supports amphibious operations and high readiness forces. 
The PHTT is deployed close to the front line to reduce transportation times from the moment someone is wounded to getting higher level care and can provide medical support on the move or at a more permanent facility that can be set up when time allows.
"Commando Force operations create regular challenges for the medical team," said Surgeon Lieutenant Ben Smith, Medical Officer within PHTT.
"We have been testing novel concepts to overcome the obstacles posed by supporting disaggregated small team operations."
One of the trials saw the team provide Battlefield Advanced Trauma Life Support from a landing craft from HMS Albion, focusing on how treatment could be delivered quickly and effectively during an amphibious assault, close to the front line.
This training is not uncommon for the medics, as they constantly look at better ways of working to provide high-quality care on the battlefield.
Medical Assistant Dylan McDermott, a PHTT team member, said, "Regular training is crucial for me to be able to perform high level enhanced field care. Drilling the basics ensures we can provide medical cover no matter what environment."
The PHTT comprises Royal Marines and Royal Navy personnel, including a medical officer, medics, drivers, signalers and tactical specialists, allowing them to move quickly and attend to casualties.
The team have been training alongside soldiers of the Lithuanian National Defence Volunteer Forces (KASP), sharing valuable expertise with each other and increasing their ability to work seamlessly together.
The medics are part of the Littoral Response Group (North), which is centred on HMS Albion, RFA Mounts Bay and 45 Commando, and has seen them work around the Baltic in Spring 2021.
The U.K. task group has been involved in large-scale NATO exercises alongside 17 other nations on Baltops.
The latest phase of that saw the medics participate in a tactical exercise, which has seen troops, ships and aircraft work on tactics and strategies.