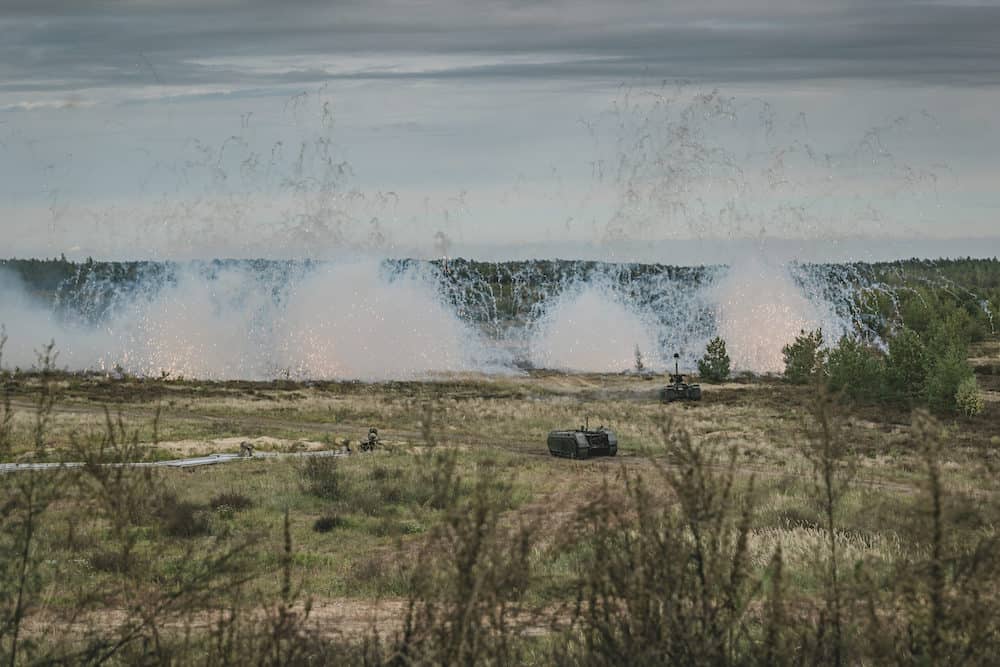 Rheinmetall and Milrem Robotics have deployed the Rapid Obscuring System (ROSY) smoke screen launcher on the THeMIS Unmanned Ground Vehicle (UGV) for the first time.
The ROSY was integrated onto the THeMIS Combat UGV and deployed by Latvian Armed Forces soldiers during the second demonstration of the European EDIDP project Integrated Modular Unmanned Ground System (iMUGS).
The THeMIS Combat is a weaponized version of Milrem Robotics' THeMIS line of vehicles and was equipped with FN Herstal's deFNder Light Remote Weapon Station (RWS).
"The THeMIS Combat UGVs provide direct fire support for manoeuvre forces and act as a force multiplier. Enhancing them with a smoke screen launcher adds another capability that protects units against unexpected attacks," said Cpt (res) Jüri Pajuste, Defense Research and Development Director at Milrem Robotics. "Additionally, the smoke screen disrupts the view of the thermal sensors, which makes it more difficult to detect the troops by the adversary."
"Smoke protection systems make perfect sense on unmanned platforms," added Johannes Maltan, Head of Product Management Soft Kill Protection – Army Projects. "With relatively little effort, even expensive systems can be better protected. As we have seen in tests, the smoke protection systems increase the survivability of these platforms and thus contribute to mission success. Furthermore, UGVs equipped with ROSY are able to conduct tactical screening on the front line. Thus, they also contribute to the protection of deployed soldiers."
THeMIS Combat UGVs, with an integrated self-stabilizing remote-controlled weapon system, provide high precision over wide areas, day, and night, increasing stand-off distance, force protection and survivability. They can be equipped with light or heavy machine guns, 40 mm grenade launchers, 30mm autocannons and Anti-Tank Missile Systems.
The 40mm ROSY smoke protection system offers vehicle protection during patrols or when travelling in convoys. ROSY can generate dynamic smoke screens as well as spontaneous, large-area and multispectral interruption of the line of sight. Its multi-mission capability represents a sure defense against stream and wave attacks. Due to its integrated IR jamming and decoying capabilities, ROSY effectively counters all TV-, EO-, IR-, IIR-, laser- and SACLOS-guided weapons.