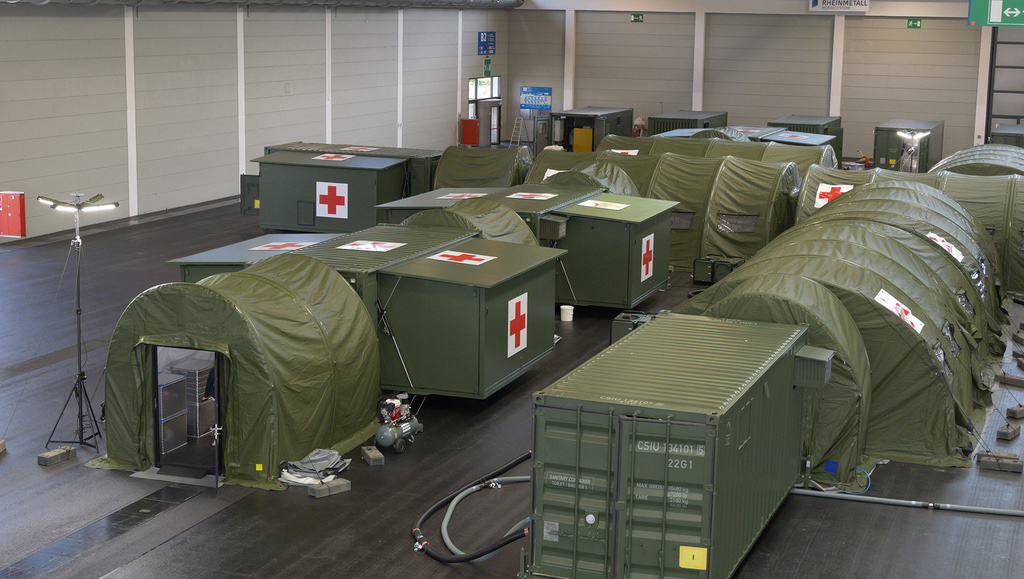 Rheinmetall has supplied Ukraine with a mobile field hospital, just one year after the German Ministry of Defence awarded the contract for the hospital and related training support.
The order, awarded to Group subsidiary Rheinmetall Mobile Systeme GmbH (RMS), is worth around €9 million.
This state-of-the-art field hospital contains 32 beds, including eight intensive care beds, an operating room with associated sterilization facilities, diagnostic imaging technology (x-ray and computer tomography), a laboratory, a pharmacy, and administrative and personnel tracts.
It therefore complies with NATO Role 2 medical support standards. In two additional deliveries, RMS will also be supplying Ukraine with two high-mobility medical support facilities.
Rheinmetall has also furnished Ukraine with the necessary transport assets. A total of ten truck/trailer combinations carried the twenty containers to their destination.
The hospital is a complete autarkic medical support unit. It not only includes medical modules in expandable containers and tents, but also an independent power generation capability and facilities for producing medical gases.
It also features its own water supply, including treatment and decontamination as well as billets with sanitation modules for patients and personnel. The water supply network is heated and the sensitive computer tomograph in the container is spring loaded with an elaborate transport system. It can therefore be safely transported by land, sea or air, and is ready to operate upon arrival. Designed for maximum operational mobility, all of the systems and equipment in the hospital can be reused repeatedly.
The transfer of the mobile field hospital was a two-step operation: first, ten Ukrainian soldiers took part in a 14-day training course to learn how to assemble and disassemble and operate the hospital. The formal handover to Ukraine then took place at a specified location.
RMS staff members trained the Ukrainian troops in a trade fair hall in Friedrichshafen in the German state of Baden-Württemberg. Half the Ukrainian team already had a medical background, the other half, prior technical training. To take part in the two-week course, they traveled directly from their area of operations in Ukraine to Germany.
RMS Managing Director Hauke Bindzus said; "What sets us apart from other contractors isn't just our experience. It's our attention to detail when it comes to combining the individual components, and especially our focus on ergonomics and system resilience. We enable our partners to provide top-quality medical care in a truly mobile system."
Bindzus continued; "We kept our word and have supplied the Ukrainian military with a major first-class field hospital at extremely short notice. The men and women of our company and those of our partners demonstrated outstanding commitment in carrying out this project. We never forgot for a single day how important a speedy delivery was. This system will hopefully save many lives in Ukraine. We are proud to be contributing our special capabilities to Rheinmetall's support for Ukraine."
Find manufacturers and suppliers of Rapid Deployment Shelters >>