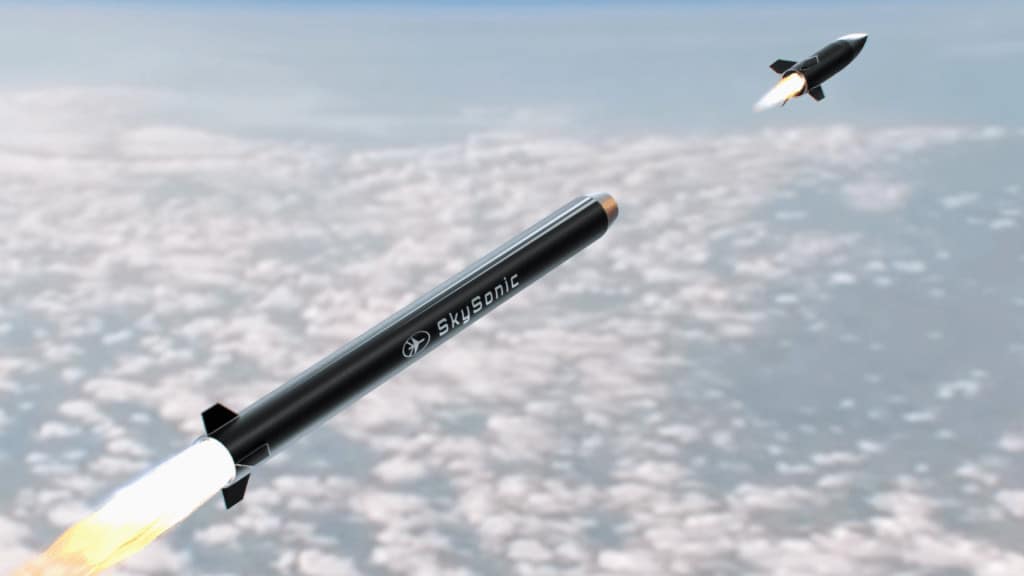 Rafael Advanced Defense Systems Ltd., a defense technology company, has developed an advanced interceptor, named Sky Sonic, as a defensive response to the growing threat of hypersonic missiles.
The system is being officially unveiled for the first time at the 2023 Paris Air Show, one of the world's largest aerospace exhibitions.
According to Rafael, the Sky Sonic interceptor represents a major technological leap in hypersonic missile defense. Designed with exceptional maneuverability and high-speed capabilities, it effectively neutralizes hypersonic missiles, which travel at ten times the speed of sound, with unmatched precision and stealth.
Rafael's booth at the air show showcases the interceptor, highlighting the company's commitment to pushing the boundaries of air defense technology.
Dr. Yuval Steinitz, Chairman of Rafael, said: "Rafael has identified a marked increase and arousing interest in the international arena with proven operational capabilities and a geopolitical reality that has created many opportunities. We are following the developments and emerging threats in the current security context and are developing the most advanced defense systems. Project Sky Sonic is an innovative, unique development of its kind for the hypersonic weapon threat."
Major General Yoav Har Even, Rafael CEO, said: "We are coming to the air show with Rafael's vast and impressive portfolio that includes systems that are at the forefront of technology. We at Rafael believe that even the seemingly impossible can be done. We have proven this in the past and will continue to prove it in the future. The orders for these systems are breaking records and for the first time we stand on a backlog of orders of over 40 billion NIS and alongside the activity as a successful global business company, RAFAEL continues to be a significant pillar in the security of the State of Israel."
Brigadier General Pini Yungman, Executive Vice President and Head of the Air Defense Division at Rafael, added: : "Rafael has achieved a reputation as a leading global manufacturer of air defense systems. From ground-breaking and operationally proven systems like the Iron Dome in its various configurations, to the David's Sling and the SPYDER, we continue to look ahead and develop the next generations of systems to defend against the threats of tomorrow."
According to Rafael, hypersonic missiles encompass a new family of threats, including hypersonic atmospheric cruise missiles, gliders, and cruisers that travel at incredible speeds while maintaining exceptional accuracy and maneuverability. Unlike ballistic missiles, hypersonic missiles have the ability to change their course mid-flight. Consequently, a successful defense against hypersonic threats requires a multifaceted approach that involves not only countering their speed but also effectively tracking, detecting, and intercepting their unpredictable flight paths.
Developing a comprehensive defensive response to hypersonic threats presents numerous complex challenges, including detection and tracking difficulties that necessitate a synchronized sensor system capable of accurately identifying and locating the threat throughout its trajectory. Furthermore, accurate trajectory prediction demands an interceptor that can swiftly reach the target, minimizing uncertainty associated with target location. Lastly, the interceptor must exhibit exceptional maneuverability and operate on a non-ballistic trajectory to effectively pursue and neutralize the hypersonic threat.
The Paris Air Show provides a platform for Rafael to showcase its wide range of advanced systems and capabilities. Visitors to the Rafael pavilion will have the opportunity to experience first-hand the Iron Dome system, the David's Sling system, the Iron Beam laser air defense system, as well as advanced features of the SPIKE missiles integrated with combat helicopters, supplementary systems for aerial platforms, and much more.