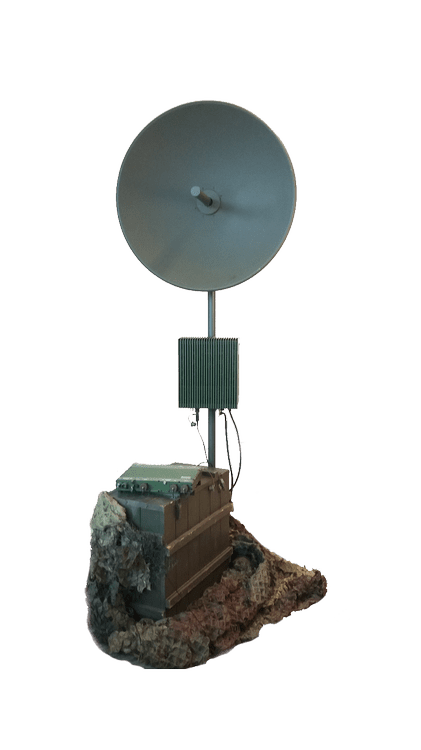 Northrop Grumman and Polish firm Transbit Sp. z o.o. have completed a joint effort to integrate and test the Transbit R-460A Radio Relay High-Capacity Line-Of-Sight (HCLOS) radio communications system with the Integrated Air and Missile Defense Battle Command System (IBCS).
The R-460A radio is the first non-U.S. radio communications system and the initial Polish system to be integrated with IBCS. Poland is the first international partner nation to acquire IBCS as the centerpiece of the country's air and missile defense modernization efforts.
"This successful integration is a testament to a strong industry partnership and sets the stage for future efforts to integrate other Polish and indigenous systems and capabilities onto the IBCS network," said Kenn Todorov, vice president and general manager, combat systems and mission readiness, Northrop Grumman. "We look forward to continuing to work with Polish industry supporting their indigenous capabilities in support of the Polish defense modernization program."
Northrop Grumman and Transbit collaborated to develop a laboratory prototype configuration at Northrop Grumman's facility in Huntsville for integration and testing. This prototype included representative IBCS hardware and software components as well as a radio communication system based on the Transbit R-460A Radio Relay product.
Last month, this collaborative engineering development initiative culminated in a successful demonstration of integration between IBCS and the Transbit R-460A for Integrated Fire Control Network (IFCN) and network management functions. Northrop Grumman also conducted detailed network functionality and performance testing to evaluate the potential use of the R-460A in an IBCS based air and missile defense system.
"The successful integration with IBCS of RADION system communications technology developed by Transbit Sp. z o.o. confirms the ability of the Polish industry to provide advanced technical solutions to be implemented in such modern and complicated systems as IBCS," said Robert Tomasik, research and development director, Transbit Sp. z o. o. "We greatly look forward to applying the technology in the next stages of the Modernization Program for Missile and Air Defence Systems in Poland."
The R-460A radio operates in the NATO Band IV frequency range providing point-to-point transmission of Internet Protocol (IP) based network information at data rates up to 400 Megabits per second (Mb/s) using Multiple-Input Multiple-Output (MIMO) technology. The radio supports the use of switched beam antennas enabling operation in multipoint-multipoint mode, making it a perfect fit for providing digital tactical telecommunications networks such as those required for IFCN operation.
IBCS creates a paradigm shift for IAMD by replacing legacy stove-piped systems with a next-generation, net-centric approach to better address the changing battlefield. IBCS enables revolutionary "any sensor, best effector" operations that fuses information from multiple, disparate sensors to eliminate vectors of attack and create a single integrated air picture with unprecedented accuracy. IBCS' dynamic and flexible open architecture is foundational to integrating current and future sensors and effectors to enable joint, coalition interoperability and multi-domain operations.
IBCS is managed by the U.S. Army Program Executive Office for Missiles and Space, Redstone Arsenal, Alabama.