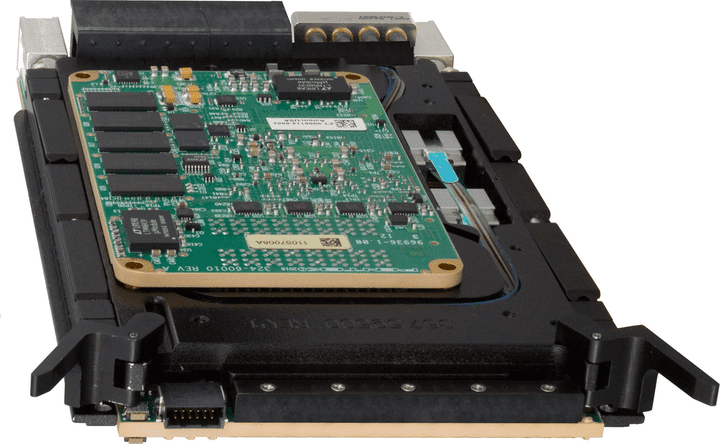 Pentek, Inc. has extended their proven Quartz RF system-on-chip (RFSoC) product family by introducing the QuartzXM eXpress Module, the Model 6003, adding greater RF performance and scalability.
The QuartzXM Model 6003, based on the Xilinx Zynq UltraScale+ RFSoC Gen 3, provides full sub-6 GHz direct-RF I/O support and greater flexibility with more decimation and interpolation options.
The QuartzXM Model 6003 is ideal for 5G and LTE wireless, signals intelligence (SIGINT), electronic warfare (EW), communications and radar applications that require low size, weight and power consumption (SWaP).
"Immediately releasing products utilizing Xilinx Zynq UltraScale+ RFSoC Gen 3 demonstrates our commitment to offering our customers the latest technology for their applications," said Bob Sgandurra, Pentek's director of Product Management. "The modularity of our Quartz product line enables us to quickly provide solutions in any form factor needed, whether it's in the lab or in a deployed application."
These new Quartz products support direct RF sampling using 5 GS/sec 14-bit ADCs and eight 10 GS/sec 14-bit DACs, both supporting analog signals up to 6 GHz.
Each data converter has built-in digital downconverters or upconverters with programmable decimation and interpolation up to 40x and independent tuning for increased RF flexibility and frequency planning.
The Pentek Quartz architecture positions the RFSoC as the cornerstone of the design. All control and data paths are accessible by the RFSoC's programmable logic and processing system. The Xilinx Zynq UltraScale+ RFSoC Gen 3 integrates eight RF-class ADCs and DACs into the Zynq FPGA fabric along with quad ARM Cortex-A53 and dual ARM Cortex-R5 processors, creating a multichannel data conversion and processing solution on a single chip.
Complementing the RFSoC's on-chip resources, the QuartzXM Model 6003 adds wideband analog RF connectors to preserve signal integrity; LVDS connections to the Zynq UltraScale+ FPGA for custom I/O; GTY connections for 28 Gbaud gigabit serial communication; 16 GBytes of DDR4 SDRAM; and all power supplies and clocking management needed by the RFSoC.
The QuartzXM Model 6003 is pre-loaded with a suite of Pentek IP modules to provide data capture and processing solutions for many common applications. Modules include DMA engines, DDR4 memory controller, test signal and metadata generators, data packing and flow control.
The board comes pre-installed with IP for triggered waveform and radar chirp generation, triggered radar range gate engine, wideband real-time transient capture, flexible multi-mode data acquisition and extended decimation.