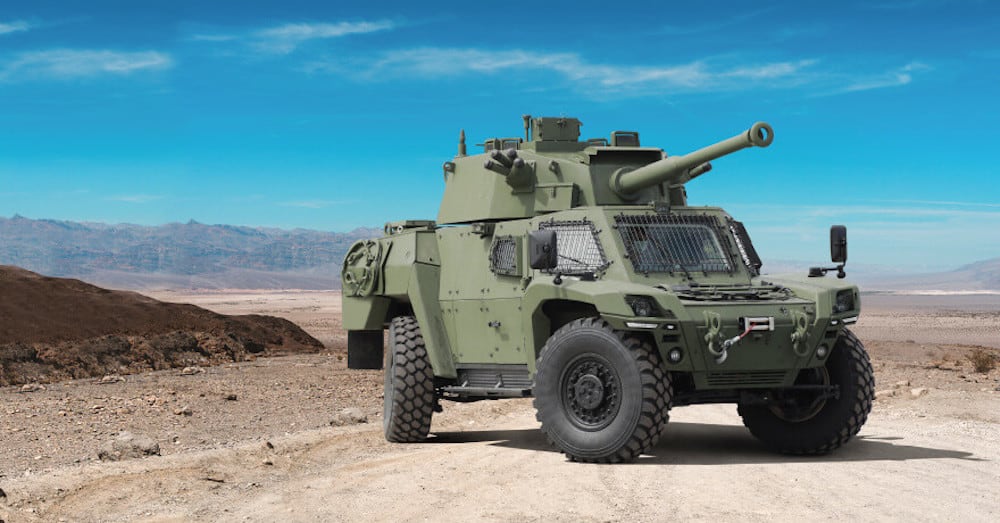 Otokar has introduced a diesel-powered version of its Akrep II 4×4 armored reconnaissance and patrol vehicle at the IDEF exhibition in Istanbul this month.
The highly anticipated AKREP IId has a modular structure and is designed with a reduced silhouette, high mobility and survivability. It consists of a low-slung armored body with space for three crew members, upon which can be mounted a turret or other form of armament up to 90mm in calibre.
AKREP II's four-wheel drive system and optional steerable rear axle give the vehicle excellent maneuverability. Relying on the four-wheel independent suspension and swift torque control of the power pack, AKREP II can travel cross-country over challenging terrain and traverse deep mud, snow or water with ease. Maneuverability of AKREP II is crowned with crab steering motion, which comes with a steerable rear axle.
AKREP II controls the basic mechanical components of steering, acceleration, and deceleration electrically (drive-by-wire). This makes it possible to remotely control the vehicle, or adapt the driving assistance systems and autonomous capabilities.
AKREP II can be equipped with alternative powerplants, such as diesel, hybrid, and electric. It operates with a low silhouette, high mine protection, and efficient fire power on the same platform. With the help of electric and hybrid drive, the thermal and acoustic signature of the vehicle is minimized.
As a multi-role vehicle suitable for different types of missions, AKREP II has the ability to provide effective firepower without compromising survivability. It can also be configured for weapon platform for quick reaction, surveillance missions, armed reconnaissance, air defense missions, forward observer, and other similar tasks.