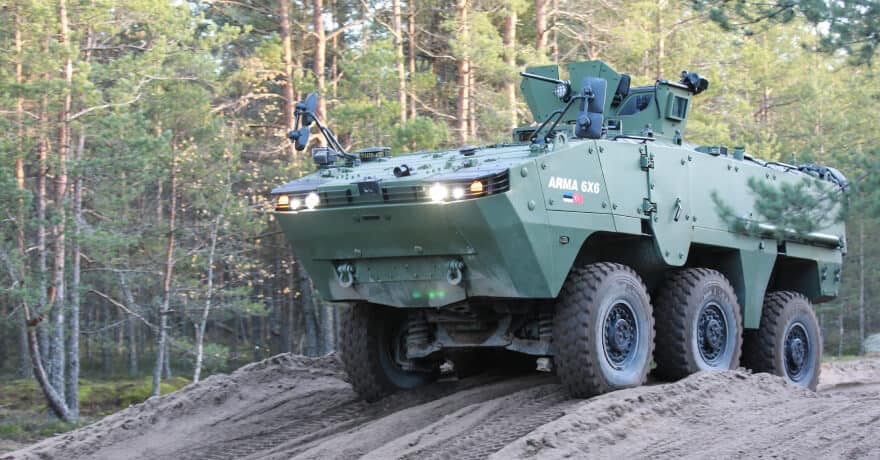 The Estonian Centre for Defence Investment (ECDI) has awarded Otokar a €130 million contract to supply ARMA 6×6 Armored Personnel Carriers.
Otokar's multi-wheeled modular armored vehicle ARMA is used by 5 different users in different parts of the world. The armored vehicle offers superior mobility, high mine and ballistic protection, as well as medium and high-caliber weapon system integration options.
Offering high tactical and technical features, the vehicle is available with a wide range of variants and is combat proven in the most demanding terrain and climatic conditions.
ARMA 6×6 stands out in particular for its high payload capacity and large interior volume. It can be equipped with various mission equipment and manned or unmanned turrets, according to the user's needs.
The ARMA 6×6 platform can be used for various missions as surveillance, recovery, armored personnel carrier, armored combat vehicle, command control, reconnaissance, and CBRN reconnaissance vehicle while different armament systems can be integrated into the vehicle.
The signature ceremony was held in attendance of Estonian Defence Minister, Hanno Pevkur and Turkey's Defence Minister Yaşar Güler.
Following the Letter of Intent signed between two countries' Defence Ministers, a protocol on cooperation in defense industry between Turkey and Estonia was also signed by Magnus Valdemar Saar, ECDI Director General and Haluk Görgün, SSB (Turkish Defence Industry Agency) President.
The decision to purchase the 6×6 vehicles was made through a strong international competition and very thorough both commercial and technical evaluation of Estonian Defence Forces (EDF) where combat proven ARMA 6×6 stood out with its superior technical capabilities.
The contract includes maintenance equipment and training services, with the deliveries planned to start in the second half of 2024 and completed by 2025.
The agreement was signed between Magnus Valdemar Saar, ECDI Director General and Sedef Vehbi, Otokar Military Cluster Head on October 18th, 2023 in Estonia.
"Otokar is proud to have a chance to serve with its ARMA 6×6 Armored Personnel Carrier to Estonian Land Forces," said Sedef Vehbi, Military Cluster Head of Otokar, "Thanks to our combat proven know-how in land systems and related R&D, engineering and testing capabilities, nearly 33 thousand Otokar military vehicles are actively in service in more than 40 countries and nearly 60 end users in different climates and geographies around the world. Specifically ARMA 6×6 has a combat proven success in different parts of the world and Estonia will be the second NATO country fielding ARMA. 
"Being a listed NATO and UN supplier, we value this award very much and consider it as a very important milestone for our ARMA vehicle family. We strongly believe that this initial contract will be a beginning of a long lasting relation between Estonian Defence Forces and Otokar."