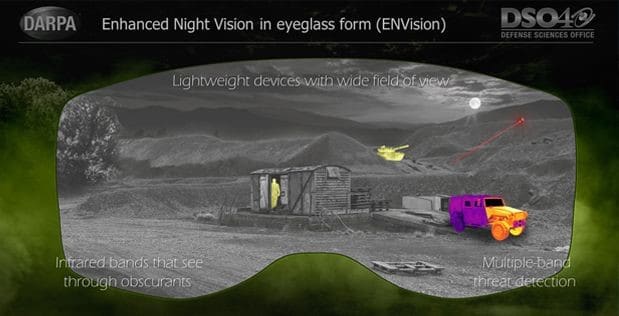 Elbit Systems of America has partnered with Physical Sciences Inc. and Stanford University to produce a next-generation night vision system for US warfighters, offering more capability in a smaller and lighter package.
The partnership will produce a solution for the Defense Advanced Research Projects Agency (DARPA)'s Enhanced Night Vision in eyeglass form (ENVision) program. The team collaboration will run through October 2023.
Elbit Systems of America and its partners will each bring their expertise to the project, providing an advanced night vision solution with an expanded field of view, broader bandwidth, and enhanced situational awareness, with a goal to package the device within the form factor of a regular pair of glasses. The next-generation night vision device will enable warfighters to see through fog, dust, and darkness in a system that is lightweight and easy to wear.
"The ENVision program challenges us to break the mold. Traditionally, more capability equates to greater size, weight, and power, but now we aim to flip this paradigm," said Erik Fox, Vice President and General Manager of Elbit Systems of America – Night Vision. "We're pushing ourselves to create an ideal night vision solution with increased performance in a much smaller, lightweight configuration and we're excited to take on this challenge with our partners."
"At Elbit America, we understand advancements in technology come when our workforce is bold and takes on industry challenges in collaborative new ways," said Elbit Systems of America President and CEO, Raanan Horowitz. "Teamed with Physical Sciences Inc. and Stanford University, we are well-positioned to offer DARPA a breakthrough solution that will provide our nation's warfighters with the very best next-generation night vision solution."
Elbit Systems of America has been developing advanced low light imaging technology to significantly decrease the size and weight of night vision devices and will apply this know-how to the ENVision program.