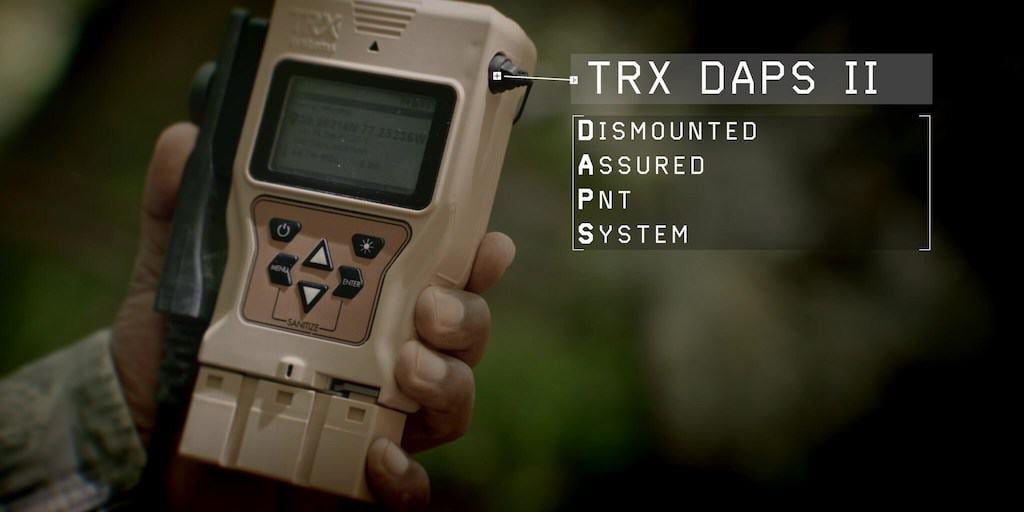 TRX Systems is now shipping the Dismounted Assured Positioning, Navigation, and Timing (PNT) System Generation II (DAPS GEN II) solution.
This technology provides Assured PNT to warfighters operating in GPS-denied environments.
In March 2023, the U.S. Army Program Executive Office for Intelligence, Electronic Warfare and Sensors (PEO IEW&S) awarded TRX a seven-year, $402 Million Indefinite Delivery/Indefinite Quantity (IDIQ) contract to deliver DAPS GEN II systems.
Five months after the U.S. Army Program of Record (PoR) award, the DAPS GEN II solution, known as TRX DAPS II, is in production and shipping.
Army ground personnel rely on GPS for the positioning and timing data required to successfully execute their missions. However, adversaries in conflict zones around the world are increasingly employing jamming and spoofing technologies to corrupt these vital PNT capabilities.
TRX DAPS II is designed specifically to help dismounted Soldiers overcome these threats – it delivers the position, time, and navigation data they need to effectively target, maneuver, and communicate even in GPS-challenged environments.
TRX DAPS II is a small, handheld device that weighs approximately one pound and features efficient power utilization algorithms that enable a continuous stream of assured PNT data for warfighters and their combat systems.
To achieve that unique capability, TRX DAPS II fuses inputs from a diverse range of PNT sources, including:
M-Code GPS, a secure and higher-powered military GPS capability that is resilient against jamming and other threats,
Complementary sources of position and time data when GPS is degraded, and
Inertial sensors supporting integrity and positioning, independent of any satellite source.
By continuously cross-checking data from these and other inputs, TRX DAPS II monitors PNT source integrity, eliminates compromised sources, and delivers assured position and time to the warfighter.
TRX DAPS II features a modular architecture that can be easily upgraded to accommodate rapid integration of new PNT sources.
"With close collaboration with the U.S. Army, TRX was able to develop and deliver the TRX DAPS II system to support operation throughout contested environments on a demanding schedule," said Carol Politi, President of TRX Systems. "Warfighters will soon be equipped with an assured positioning, navigation, and timing capability that will help overcome the malicious disruption of GPS by adversaries on the battlefield."
Find manufacturers and suppliers of Position, Navigation and Timing (PNT) Technology >>