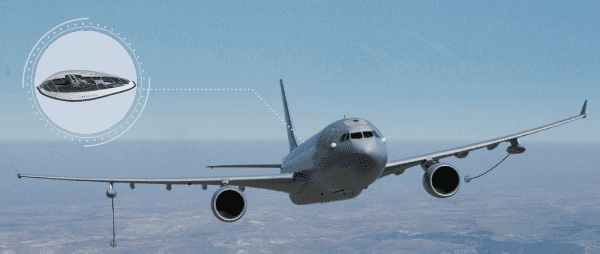 The French defense procurement agency (DGA) has awarded Thales and its partners the 17-year MELISSA contract for the development, integration and support of aircraft satcom stations as part of France's SYRACUSE IV military satellite telecommunication program.
This Aeronautical Radio, Incorporated (ARINC) standard satcom station uses the military and civilian Ka bands. It is installed on the fuselage of large aircraft, such as the MRTT tanker, A400M transport and AWACS surveillance planes.
Thales will provide a resilient, high-data-rate satellite station capable of connecting large military aircraft in all circumstances to meet the connectivity needs of the French Air and Space Force.
The militarized version of the Thales terminal is derived from a proven satcom product that has accumulated over 30,000 flight hours on commercial airliners. This new version is specifically designed to maintain connectivity with command centers in jammed environments and severely degraded flight and weather conditions. It operates with France's SYRACUSE IV sovereign satellite system and is also compatible with any allied military or commercial satellites.
The Thales teams and their partners overcame a host of technical challenges to design a highly compact device, despite aeronautical and electromagnetic constraints, achieve extremely high-precision pointing to maintain a stable link with the satellite during aircraft manoeuvres, and manage cyber threats.
The industrial organization put in place by Thales for the MELISSA contract includes partners recognized by the DGA, such as the French SME Eclipse, as well as Thales' Gennevilliers and Cholet industrial competence centers and its Brive production facility. This organization will guarantee timely delivery of the contract and the long-term sovereignty of the supply chain, and will consolidate the expertise of France's defense technological and industrial base in the area of satellite technology.
"The DGA's decision to equip France's military tanker aircraft with our secure satellite communication solution is a source of great pride for the Thales teams and reflects our unique know-how and European leadership in secure, resilient satellite connectivity," said Jean-Claude Schmitt, Vice President, Network and Infrastructure Systems, Thales. "This ultra-high performance sovereign solution will be a key asset for the French forces engaged in high-intensity conflict missions."
Thales will deliver satellite stations to the French Ministry of the Armed Forces by 2025. Once integrated into the Phénix MRTT tanker aircraft, these stations will enable broadband connections anywhere in the world, and will be able to withstand jamming in aggressive electromagnetic environments.