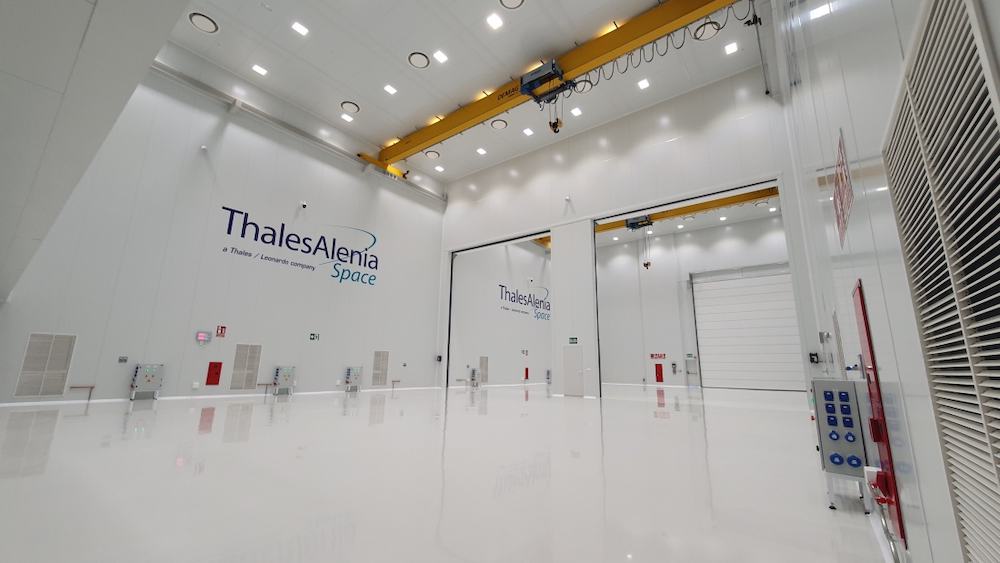 Thales Alenia Space, a joint venture between Thales (67%) and Leonardo (33%), has inaugurated its new satellite integration clean room in Tres Cantos, Madrid; with the presence of the Minister of Science and Innovation of Spain, Pedro Duque.
This cutting-edge facility represents an important step forward in the company's development strategy in Europe and a qualitative leap in the capacities of the space industry in Spain for the Assembly, Integration and Tests (AIT) of large space systems.
"This brand new clean room is the sign of Thales Alenia Space's determination to develop its activities in Spain, in line with the company's global development strategy to meet the evolving needs of its customers and of the space market", said Hervé Derrey, President and CEO of Thales Alenia Space.
The new clean room will add more than 600 m2 clean area to the existing 2000 m2 clean area at the site. With a free height of 12.5 meters inside, it is equipped with bridge cranes with lifting capacity up to 12 tons, allowing the integration of large satellites, payloads and instruments for all types of space missions, spanning telecommunications, navigation, Earth observation, and science.
The construction of the facility began in July 2019 and did not stop despite the difficult conditions caused by Covid-19.
"This new facility will allow us to carry out in Spain activities of high added value with all the implications that it has regarding the creation of high quality employment and the strengthening of the space ecosystem in Spain. The new capabilities will boost the competitiveness of our national space industry", added Alfonso Richart, COO of Thales Alenia Space in Spain.
The building will enable high-scale activities such as the integration of the Communications Module of SPAINSAT NG, Spain's new generation governmental satellites owned and operated by Hisdesat, happening in a few months.
The Communications Module, which houses the satellite's communications payloads, is a 6-meter high structure weighing nearly two tons, equipped with hundreds of units, that will become the largest satellite system ever integrated in Spain to date.