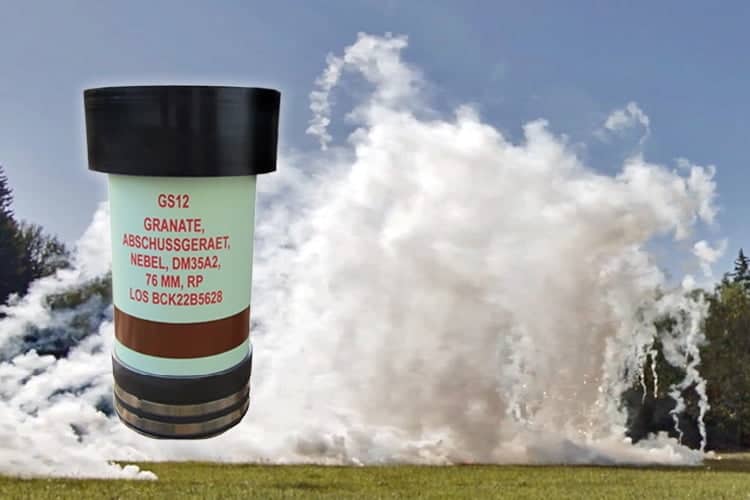 Rheinmetall will deliver a new generation of Maske 76 rapid smoke/obscurant cartridges to Switzerland under a new 'mid-two-digit million-euro' contract from the Swiss procurement authority armasuisse.
A pilot lot of cartridges is due to undergo acceptance testing starting in November 2022. Delivery of the final lot is expected to take place in August 2027.
The Maske 76 is designed to be fired from tactical vehicles as a force protection measure. Based on a bi-modular, bi-spectral ammunition concept, the Maske family of cartridges comprises two rapid-reaction decoy modules that generate an intensive blooming effect using proven deception technologies. A long-lasting decoy module employs visible and infrared smoke/obscurant to interrupt the enemy line of sight in the visual and infrared spectrum. This way, Maske smoke/obscurant cartridges provide armored vehicles with effective protection against weapon systems with visual or infrared optical aiming systems, seekers, laser target illuminators and laser rangefinders. Maske rapid smoke/obscurant cartridges come in a variety of different calibers.
Issued at the end of 2021, the order will enable the Swiss Army to replace the Maske-C predecessor generation that has been in service for approximately 25 years. An additional contract was concluded for conducting periodic test firing during the entire lifespan of the smoke/obscurant shells.