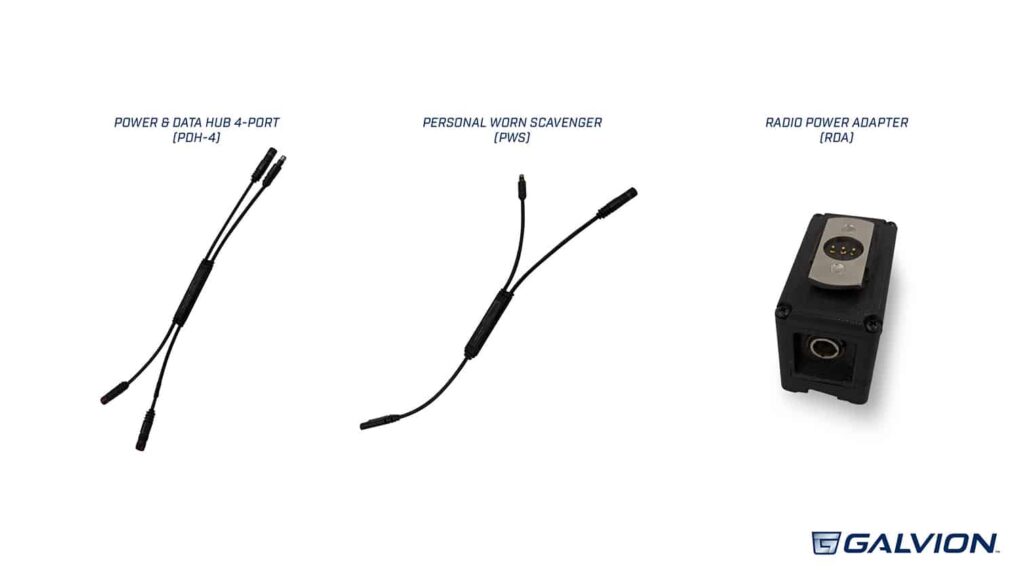 Galvion has released three new products that integrate with their existing soldier power systems, to better support the dismounted soldier in managing increasing technological demands. These products are flexible, scalable and comply with US NettWarrior and NATO STANAG 4695 standards for backward compatibility, ease of integration with other product ranges, and improved logistic sustainability on the battlefield.
To be mission effective, the modern soldier is required to carry, operate and maintain a host of devices that all demand significant power and data capacity – for example radios, NVGs, GPS, smart phones, laptops, drones and other surveillance equipment.
The Power and Data Hub 4-Port (PDH-4) provides a multi-function power and data connection between the basic soldier-worn architecture, such as hand-held radios and smart devices, and a suitable power source. The PDH-4 enables the soldier to send and receive data through the connection with the soldier worn devices, increasing situational awareness through system integration. When combined with the PWS it maximises the distribution and use of harvested power sources and is ready for the soldier's future data sharing demands and software updates.
The Personal Worn Power Scavenger (PWS) provides a highly adaptable interface to allow the soldier to harvest power from multiple sources such as solar panels, 12V systems, mains power or other squad or personal power sources such as SoloPackTM. The PWS can be used in isolation or combined with other products, such as the PDH-4, to increase utility and the number of devices that can be charged.
The Radio Power Adapter (RPA), easily integrates with most common hand-held radios in use today. This adapter provides power to the main radio battery by connecting to a main soldier-worn power source and keeping it charged and ready for when the radio is disconnected from the soldier-worn architecture. The Radio Power Adapter supports the AN/PRC-148 MBITR, Falcon III AN/PRC-152A and the AN/PRC-161 Link-16. The RPA also reduces the number of radio batteries a user needs to carry and fits into their existing load carrying system.
Kristen Lomastro, President of Active Systems, said: "Galvion has been leading the way for soldier power management and distribution systems with their NervCentr® products and I am extremely pleased to announce the release of these three new products to augment our dismounted soldier capability."
"With their small form factor, these products easily integrate into existing soldier-worn equipment and are compatible with other soldier systems. They also provide the hardware infrastructure to support our mission-enabling software making them future-ready. Galvion always places the soldier first, and we pride ourselves on designing solutions that help to protect and support those who protect us."
Galvion will be exhibiting the range of next generation head systems, data compatible accessories and Li-ion platform power solutions on stand H1-424 at DSEI London 2021.