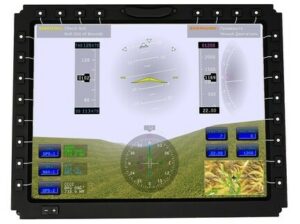 Intellisense Systems, a provider of multi-function avionics display systems, has introduced the new 15-inch Primary Flight Display 12 x 9 (PFD–1209).
With vFusion capabilities, UXGA (1600 x 1200) pixel resolution, a dual mode backlight, and night-vision compliance, the new display is certified to Design Assurance Level (DAL) A, the highest for safety assurance for airborne electronic hardware and software.
In addition to standard ARINC 818 and DVI-D video interfaces and a customizable bezel, the PFD–1209 is built with an open systems architecture to enable future growth and flexibility, bolstering the system's sustainability and reliability while reducing cost of ownership.
According to Intellisense, these qualities make the new PFD–1209 the ideal solution for any military or commercial program.
The PFD–1209 is a large-area display that provides a greater visualization solution to pilots. It offers a multi-redundant approach with three built-in graphics processing units that supply key data in the event of any interruptions or failures. The display can also be optioned with vFusion, Intellisense's input and video mixing capability that enables pilots to combine up to four inputs on one screen. With vFusion, operators can window and tile screens, overlay inputs with alpha blending, and set picture-in-picture with pinch-and-zoom capabilities. These enhancements can lessen pilot workload, improve operational efficiency, and ultimately save on total lifecycle costs.
"This is a true gamechanger for us," said Oded Haimoff, the Senior Director of Products at Intellisense. "The PFD–1209 incorporates all our patented optical design techniques to offer a complete primary display enhancement. This includes vFusion, which really makes commands simple and intuitive for pilots and operators. Its open system architecture enables easy integration into any first-build or existing platforms, so it should work seamlessly with any primary flight display program."
The PFD–1209 was recently chosen as the primary flight display for the Replacement Multi-Function Controls and Displays (RMCDs) on the C-5M Super Galaxy transport aircraft. As the prime contractor, Intellisense is currently integrating the system into all 52 C-5Ms in the US Air Force fleet. The PFD–1209 also has proven reliability with a mean time between failures of more than 23,000 hours with airborne inhabited cargo.