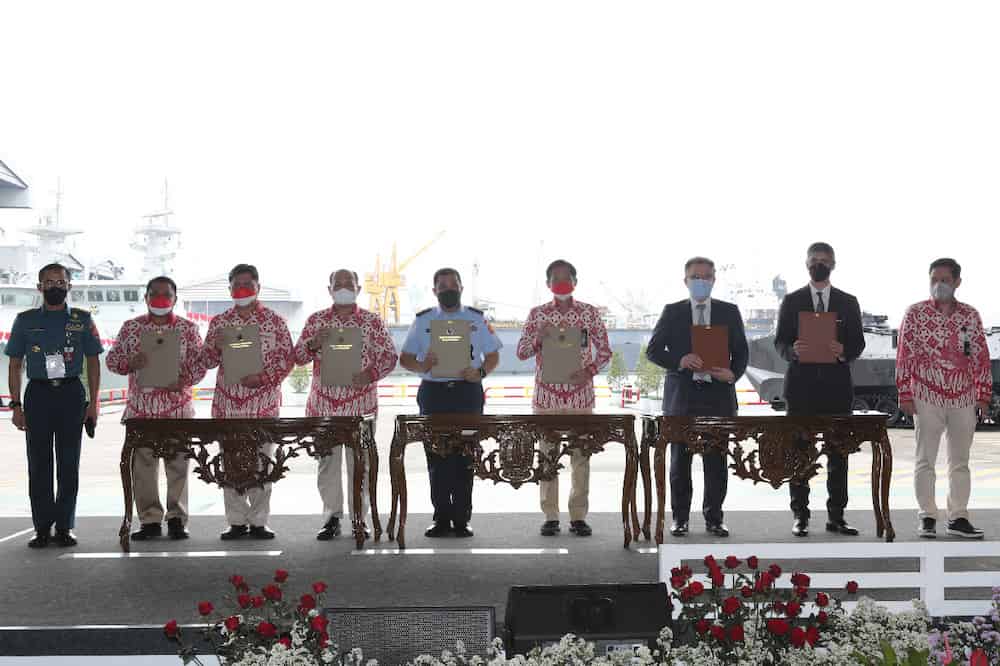 In support of Indonesia's ambitious military modernization plan, PT Len Industri and Thales have signed a strategic agreement to jointly explore and further develop solutions on topics including radars, Command & Control (C2) systems, military satellites, Command, Control, Computers, Communications, Cyber-defense, Intelligence, Surveillance, and Reconnaissance (C5ISR), electronic warfare, Unmanned Aerial Vehicles (UAVs) and Combat Management Systems (CMS).
The agreement was signed between both organizations on 20 April 2022 in Surabaya on the launch occasion of Indonesia's defense modernization plan, in the presence of Indonesian President Joko Widodo and Minister of Defense, Prabowo Subianto.
For radars, the collaboration will include the planned transfer of technology for military and civilian radars, including local MRO activities, and the co-development of a national C2 radar. 
Thales has been the leading partner of the Indonesian Navy for the last forty years, supplying combat systems for all warships in service. The strategic agreement will explore the co-development of a national CMS based on Thales' TACTICOS CMS, currently deployed on the KRI Usman-Harun Multi-Role Light Frigate (MRLF).
With its strong credentials in radar technology and naval modernization programs, this agreement strengthens Thales' industrial footprint in Indonesia, as a strategic partner to help the country reinforce its armed forces and defenses across increasingly complex air and maritime domains. The agreement also affirms Thales' commitment to building local expertise and growing its industrial footprint in Indonesia.
"We are delighted to extend our partnership with Thales and explore collaboration in these new topics that will bring advanced technologies and greater value to the Indonesian armed forces," said Bobby RASYIDIN, President Director, PT Len Industri. "This strategic agreement will pave the way for the growth of Indonesian industrial capabilities, as we jointly develop solutions that meet the needs and expectations of our local end-users."
Indonesia has outlined its military modernization plan through to the mid 2040s. The challenges of defending a vast archipelago amidst global threats support the country's needs to focus more resources on strengthening its overall defense capabilities.
"Thales aligns closely with Indonesia's vision of building indigenous capabilities in the defense sector. We have enjoyed a strong working relationship with PT Len over the last few decades and our expertise, together with PT Len's leading role in driving Indonesia's defence industry, makes this a winning partnership with a common vision to enhance Indonesia's military ambitions," said Guy BONASSI, Senior Vice-President, Asia, Eurasia & Latin America, Thales. "We look forward to working together on these renewed topics, to build local knowledge and expertise and by doing so, further reinforce our commitment to Indonesia."