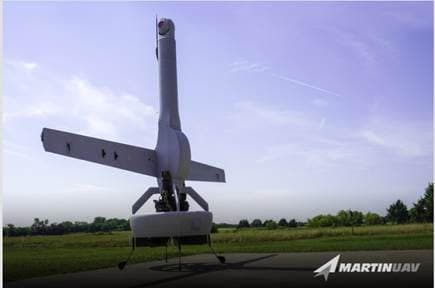 Martin UAV has unveiled its V-BAT 128 Unmanned Aerial System (UAS) with a static display model at the 2021 Sea-Air-Space Conference in National Harbor, Maryland.
With a near-zero footprint, Vertical Takeoff and Landing (VTOL) and long-endurance capabilities, the V-BAT 128's design makes transportation and rapid tactical deployment easy and safe across sea, air and land missions. It can be assembled by two personnel in less than 30 minutes, and the aircraft's duct fan propulsion design eliminates exposed rotors.
"We're pleased to have the opportunity to participate in the Sea-Air-Space Expo, so we can officially unveil the V-BAT 128 model to the defense industry and key decision-makers," said Ruben Martin, owner and CEO of Martin UAV, and recently elected Chairman of the Board for Mercy Ships International.
"We continue to push the boundaries of what's possible and are proud to offer UAS technology that serves a broad range of mission needs."
The V-BAT 128 has 'hover and stare', high-endurance, and automatic transition to straight and level flight capabilities. The V-BAT 128 also features open architecture and the capability to carry interchangeable payloads.
V-BAT 128 was recently selected by the U.S. Navy for a prototyping and development program. Its logistics footprint fits into the bed of a pickup truck or inside a Blackhawk helicopter, significantly reducing the total cost of capability. U.S. and international customers view the V-BAT as a flexible platform capable of performing Group 1 UAS to Group 4 UAS missions and beyond.