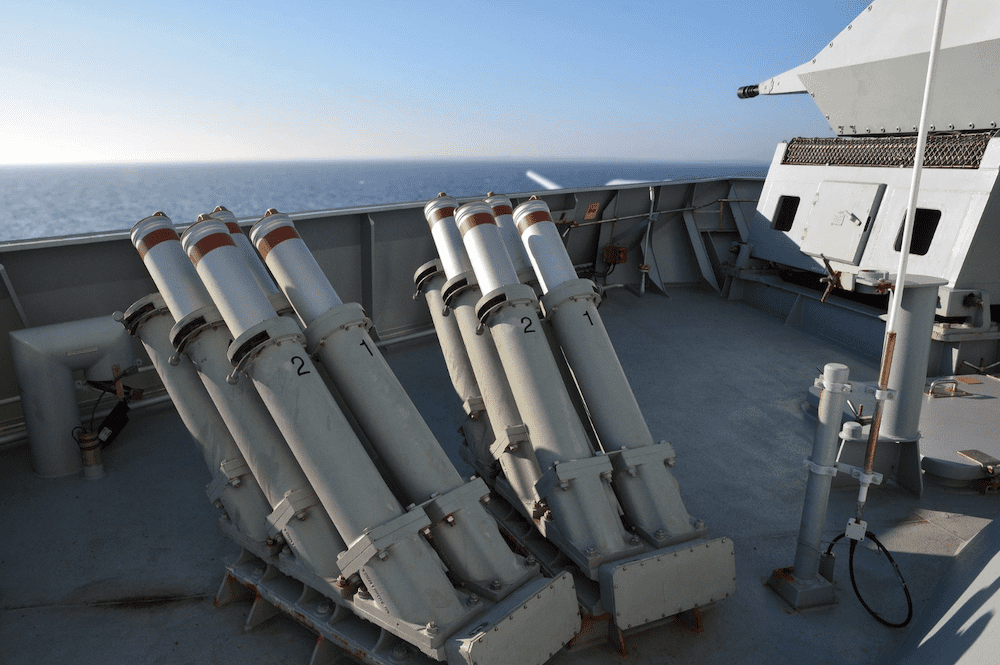 Terma will provide its C-Guard Decoy Launching Systems to the Indonesian Navy for one Multi-Role Light Frigate (MRLF) and two additional KCR-60 Fast Attack Crafts. The latter follows the 2019 contract for the delivery of a complete C-Series Combat Suite (including C-Flex, SCANTER and C-Fire) for the new KCR-60 vessels being built by PT PAL.
Terma's C-Guard decoy launching systems provide 360° coverage and can effectively counter advanced threats like small range gate Radio Frequency (RF) missiles, imaging Infra-Red (IR) seekers missiles, and advanced next generation torpedoes. 
C-Guard relies on combat proven 130 mm NATO decoys and a proven mechanical launcher design without moving parts. The DL-6T launchers are fitted with six tubes, two in each of the firing angles 20°, 40°, and 135° (port and starboard side) in the azimuth plane in relation to the sailing direction. The DL-12T launchers are fitted with 12 tubes, three in each of the firing angles 10°, 40°, 60°and 135°. Both the DL-6T and the DL-12T launcher tubes are fitted with a Round Identification System (RIS).
"Our C-Guard Decoy Launching System is already installed and deployed onboard several of the Indonesian Navy's vessels – including Fast Attack Crafts, Frigates and Corvettes. We are pleased to supply and support the Indonesian Navy with additional C-Guard equipment creating greater commonality across their fleet and offering a unique defense solution for both above and underwater threats," said Anupam Narain Mathur, Vice President for Asia Pacific in Terma. "Alongside getting additional C-Guard systems deployed in Indonesia, the end-user is now fully trained to independently perform base maintenance operations, which allows for higher system availability and cost-effectiveness for new and future deployments, also with an ease of maintenance in focus."
The C-Guard decoy launching systems are planned to be delivered and deployed on the KCR-60s and the MRLF vessel in 2023, where Terma's local office in Surabaya, Indonesia, will support and lead the overall execution of the program.
"With the establishment of our local offices in both Jakarta and Surabaya in 2020, it has proven nothing less than mission critical to have dedicated local presence and engineering capabilities to support timely execution of our Indonesian programs. This has strengthened our local partnerships and our customer relations greatly," Anupam Narain Mathur added.
Terma is the supplier of C-Guard systems across Asia-Pacific on a big variety of vessels from Offshore Patrol Vessels to Frigates in countries such as Australia, Thailand, Philippines, Brunei, and Indonesia.