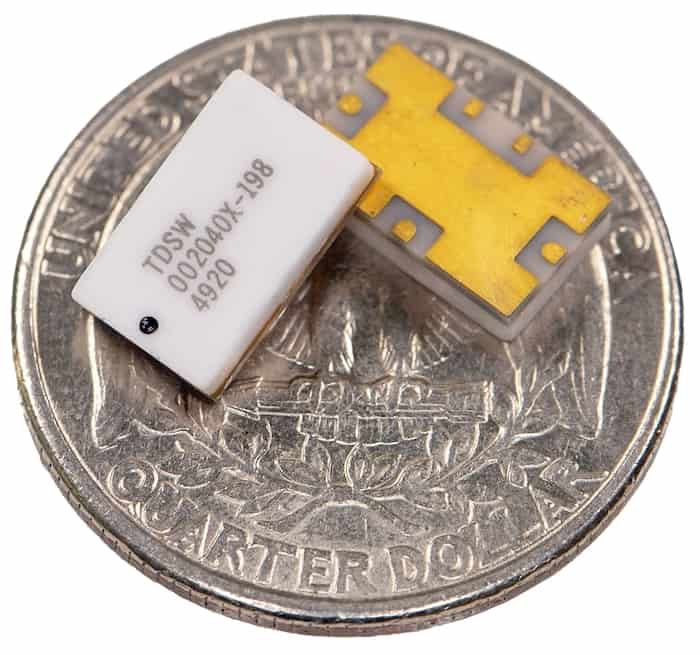 Teledyne e2v HiRel has released a new single-pole, double-throw Multi-Chip Module (MCM) switch with world class power handling. The surface mount PIN-diode hybrid exhibits superior Radio Frequency (RF) and thermal performance compared to Monolithic Microwave Integrated Circuit (MMIC) or glass carrier-based technologies.
The small form factor (10.1 mm x 6.2 mm x 2.5 mm) offers low insertion loss and superior intermodulation performance.
The TDSW002040X-198 symmetrical switch is customized to minimize Transmit-to-Antenna loss while maximizing Transmit-to-Receive isolation, and to enable maximum flexibility as the designer can assign either port as Transmit Port and the other as the Receive Port.
The extremely low thermal resistance of the hybrid assembly permits reliably handling up to +56 dBm (400 W) CW power and up to +60 dBm (1 kW) peak RF incident power while operating at an ambient of 125 °C.
"Our military customers requested this part because their previous supplier exited the market, leaving them without a solution," said Mont Taylor, VP of Business Development at Teledyne HiRel.
"The TDSW002040 is surprisingly small given the very high power-handling it is capable of, making it perfect for modern military communications transmit/receive switching."