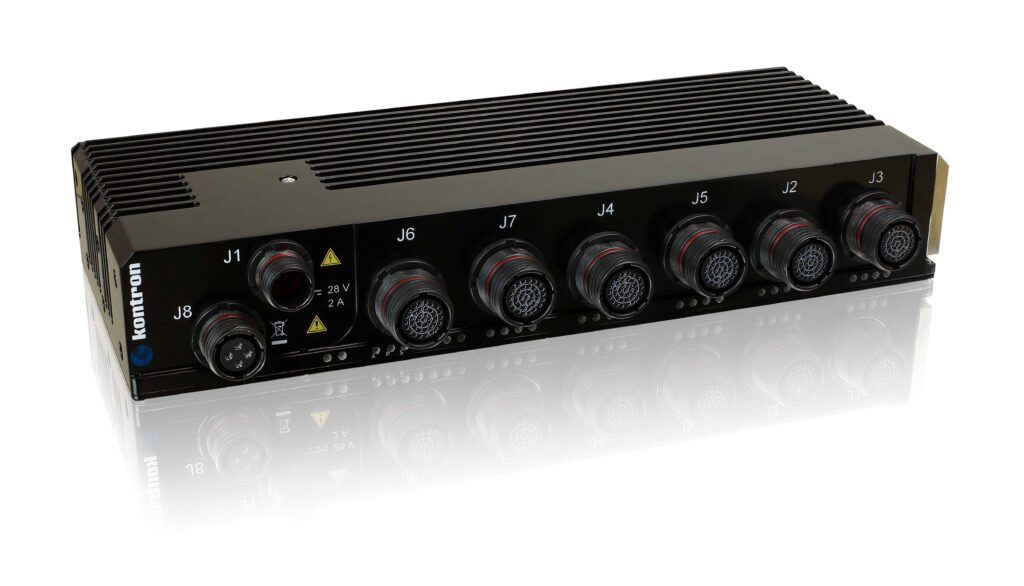 Kontron has introduced a new compact embedded rugged Ethernet switch specifically designed to build high reliability networks for defense applications in harsh environments.
Providing a rich and versatile feature set of switching functions, the CERES-2402-PTP is a deployable 26-port (24x 1GbE, 2x 10GbE) fully managed Layer 2/Layer 3 non-blocking Ethernet switch packaged in a compact form factor. Its rugged and fanless design makes the CERES-2402-PTP highly resistant to shock and vibrations while ensuring performance in extended temperature environments and long-term availability. The high-speed network capability via the 10GbE links makes it ideal for applications such as situational awareness, imaging, and sensor data. Furthermore, its optimized size (351 x 144 x 59 mm), weight and power (SWaP) allow it to be used in areas where space and available power are restricted.
The Kontron CERES-2402-PTP is therefore well-suited to installation at the tactical network edge on-board unmanned air, maritime and ground vehicles, helicopters, fixed-wing aircraft, tactical ground vehicles, missile defense, and other SWaP-constrained platforms deploying Ethernet backbones.
Based on a switch fabric with an integrated QorIQ® management processor, the CERES-2402-PTP can be monitored via SNMP over serial line or Ethernet Web-based management while a comprehensive command line interface enables Layer 2/3 management including full IPv6 support. The switch provides up to 44 Gbps of line-rate multi-layer forwarding, along with advanced network security, data, and video and voice services (on-request), all supported by embedded Fastpath Software.
Other switching features include IP forwarding & Multicast, Routing & Switching, Quality of Service and VLANs for enabling complex network routing. Precision Time Protocol support enables precise timing synchronization and packet time stamping for time sensitive applications. The switch is certified to MIL-STD-1275D for 28 VDC power supply, MIL-STD-461 F electromagnetic compatability and MIL-STD-810G shock resistant.