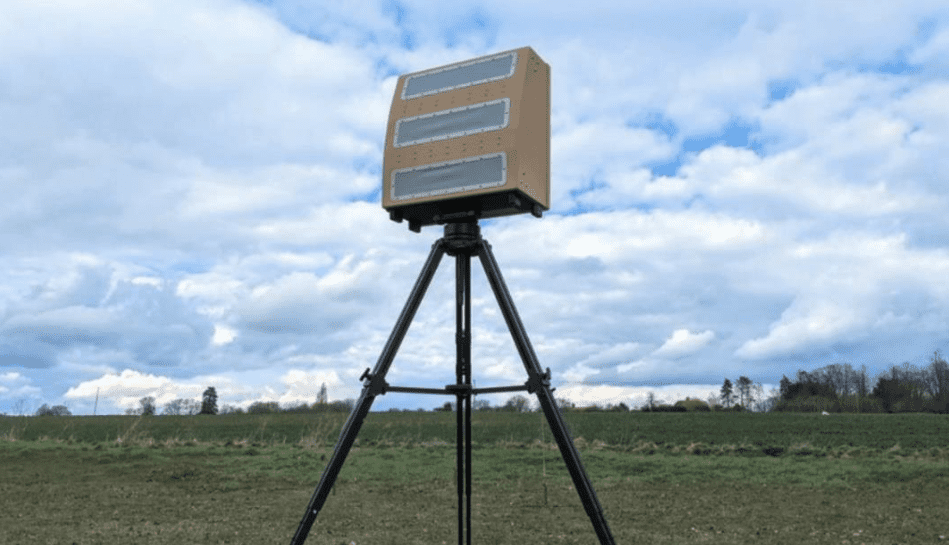 Cambridgeshire-based SME Blighter Surveillance Systems (Blighter) has showcased its innovative A800 3D multi-mode drone detection radar at DSEI 2021.
Blighter's A800 radar offers an innovative ground-based solution to threat detection, utilising multi-mode surveillance capability usually reserved only for large-scale radar systems and packaging it into a smaller, more flexible radar with a maximum range of 20km.
The A800 3D multi-mode radar is ideally suited to border and perimeter surveillance, capable of being mounted to fixed towers and masts, as well as to land vehicles and mobile surveillance trailers. This will be the first time that the A800 will be available to view in person.
The radar's main function is to detect and locate consumer 'hobby' drones in 3D space. The radar's optimised air security mode provides a unique ability to search for low-slow-small (LSS) threats caused by the misuse of small drones including the commonly used 'DJI Phantom' style quadcopters. An Artificial Intelligence based micro-doppler target filtering feature helps to reduce false alarms and improve the detection of multicopter and winged drones.
The British designer and manufacturer of electronic-scanning radars and surveillance solutions has recently been selected to provide advanced integrated B400 series target acquisition radars for a fleet of Armoured Fighting Vehicles, demonstrating the company's agility in providing the versatile systems required for such a demanding and mobile role
"We are excited to showcase our best-in-class Ground Surveillance Radars at our stand in the ADS Group UK Pavilion. We are looking forward to displaying our cutting-edge A800 3D multi-mode radar which will be available to view in person for the first time and we will be on- hand to brief stakeholders on its detection capabilities." Angus Hone, CEO of Blighter Surveillance Systems