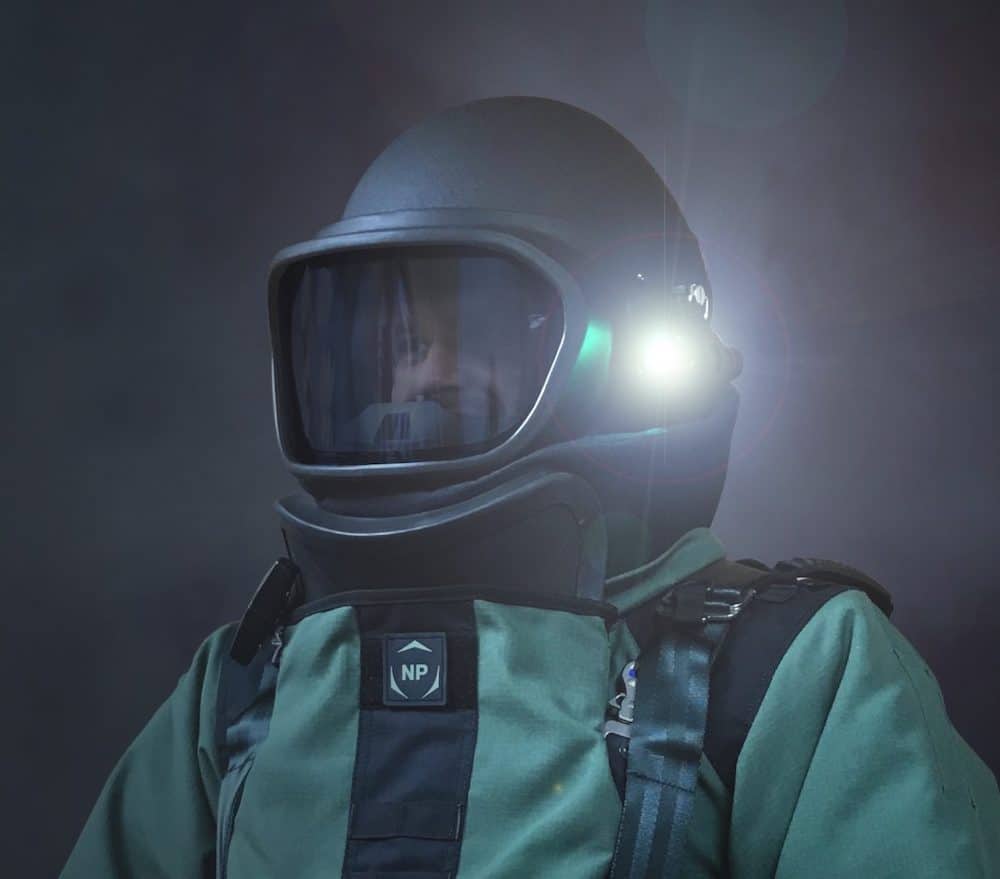 NP Aerospace has partnered with JUMA Communications to create a full situational awareness system for users of the new 4030 ELITE bomb disposal suit and helmet to meet the demands of today's explosive ordnance disposal (EOD) operators.
Joe English, Lead EOD Engineer at NP Aerospace said, "EOD operators are looking for systems that can offer full situational awareness with clear and instant communication in high noise environments and optimum hearing protection. We needed to be able to offer a solution that would easily integrate into our new 4030 ELITE suit.
"The reason why we approached JUMA Communications with this brief was that we knew that they were not just product suppliers, they have a technical engineering team who can create customized solutions within a tight timeframe."
NP gave JUMA a brief explaining that they needed a radio system to integrate with the 4030 ELITE that would be hands-free in full duplex with optimum situational awareness and the ability to hear ambient sound whilst still offering the user a high level of hearing protection. The system also must have a Voice Projection Unit (VPU) to enable users to communicate with others around them.
The JUMA Communications technicians subsequently created a customized solution by deploying industry leading products from OTTO and Vokkero.
Richard Cheung, Sales and Marketing Director at JUMA Communications, explains, "We combined the Vokkero Guardian, utilising its full duplex radio terminal with the OTTO lightweight Hurricane III headset, which offered the necessary hearing protection and a noise-cancelling microphone.
"For us, the most technically challenging aspect was integrating a VPU with the headset. We accomplished this by repurposing an OTTO REVO II waterproof speaker microphone."
The Vokkero Guardian digitally encrypted radio system allows users to communicate in full duplex (without the need to press and hold 'push to talk' buttons) over a range of up to 1.2km. The patented noise filter means users can communicate clearly even in harsh environments where ambient sound levels are extremely high.
The lightweight OTTO Hurricane III has noise-reducing earpieces and filters for situational awareness and hearing protection. Loud noises are dampened to safe levels whilst allowing normal speech to be heard clearly. Filters can be open and closed according to the NRR rating required. The headset has a connector for use with the full duplex radio system. For certain applications where VPU and electronic active listening functions are required, the Revo II product can be added into this system.
The IP68 rated Revo II has been re-purposed to operate as a Voice Projection Unit (VPU) when connected to the Hurricane III headset worn inside the NP Aerospace helmet. By pressing and holding the button on the side of the Revo II, the user can speak and broadcast their commands to surrounding personnel through the loudspeaker.
The Revo II microphone has been enhanced to pick up ambient sound, electronically limit it, and then pass it into the Hurricane III earpieces. This allows the user to have situational awareness as well as being able to communicate on the Vokkero network.
Pete Neale, Channel Manager at NP Aerospace, said, "The great thing about the Vokkero and OTTO system created by Juma Communications is that it offers full situational awareness, a requirement we are seeing in many tenders. It feeds low level ambient noise into the headset and blocks damaging high decibel noise, whilst allowing EOD operators to communicate without removing the helmet."