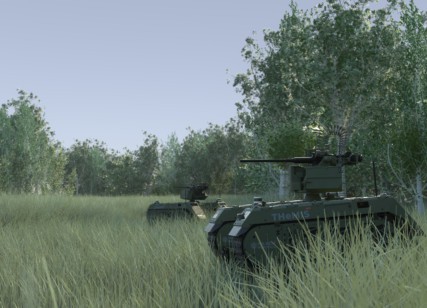 Milrem has presented a new combat unmanned ground vehicle (UGV), combining its intelligent THeMIS platform with Leonardo's HITROLE Light Remote Weapon Station (RWS).
THeMIS Combat UGVs provide direct fire support for maneuver units and act as a force multiplier. With the HITROLE Light RWS which can be fitted with a 7,62 mm or a 12,7 mm Machine Gun or a 40 mm Automatic Grenade Launcher and is assisted by AI functions for target acquisition, recognition prioritization and tracking, they provide the capability to perform multi-role tasks like surveillance, patrolling, border security, counter-sniper and asymmetric missions.
THeMIS Combat UGVs enhance force protection and increase stand-off distance by allowing the operator to utilize the weapon system and observe, day and night from a protected position.
The HITROLE Light RWS is a multi-role ultra-lightweight turret of which more than 300 units are in service worldwide.
"The THeMIS has proven to be the most popular and suitable robotic mobility platform for RWS integrations. Our cooperation with Leonardo and the integration of HITROLE represent the next crucial steps in this journey. Together with Leonardo, we can offer a highly capable robotic combat system to the Italian Army and customers worldwide. This will significantly enhance warfighting capabilities and, even more importantly, contribute to troop safety," said Kuldar Väärsi, Milrem Robotics CEO.
The THeMIS UGV is a multi-role unmanned system that is part of robotics programs in various configurations in 16 countries around the world, including 8 members of NATO.