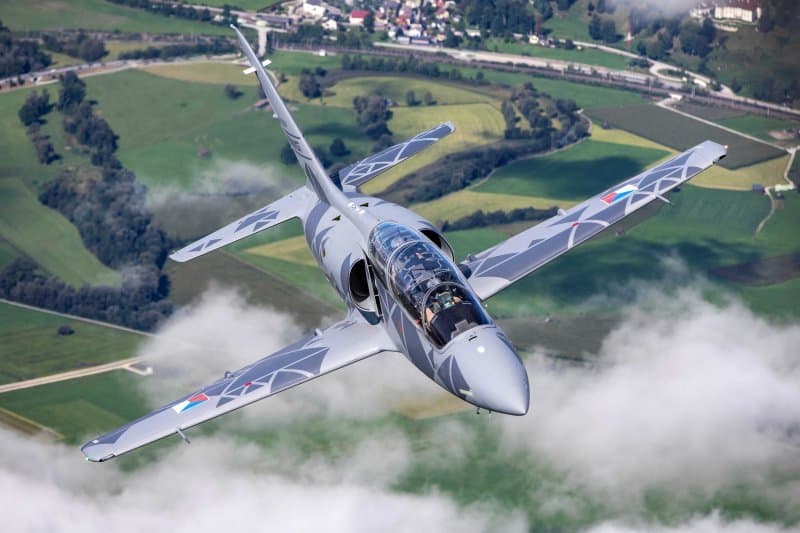 AERO Vodochody AEROSPACE and LOM PRAHA have signed a contract for the delivery of four new L-39NG jet aircraft for basic and advanced training of Czech Air Force pilots at the Ministry of Defense of the Czech Republic.
According to the contract, which also includes after-sales support or equipment, the first aircraft will be delivered no later than 28 months from the start of its effectiveness.
In addition to the aircraft, the state enterprise will receive special and high-altitude equipment, survival equipment, initial training for pilots and ground personnel, ground equipment, initial sets of spare parts and consumables, flight planning and analysis systems and a ground training system. The contract also includes an option for the delivery of four additional aircraft.
The aircraft will be used for basic and advanced combat training, during which the pilot learns the principles of using jet aircraft in the performance of combat tasks. The aircraft will primarily serve pilots of the Czech Air Force, however, it is also planned to train pilots of other countries in the NATO Flight Training Europe (NFTE) program, under which the Pardubice Flight Training Centre has already been certified as one of the first two approved campuses in Europe.
"Excellent experience and positive feedback from domestic users are always the best references for any manufacturer, therefore the state enterprise LOM PRAHA is a very important customer for us," said Viktor Sotona, President of Aero Vodochody. "We greatly appreciate the fact that the pilots of the Czech Army will continue training on our L-39NG aircraft at the Flight Training Centre operated by LOM PRAHA."
"The reason for the acquisition of the L-39NG is to ensure the continuity of the training of tactical air force pilots on subsonic machines in the training center of the state enterprise," said Jiří Protiva, director of the state enterprise LOM PRAHA. "The existing L-39C Albatros, which have been operated by the LOM PRAHA Air Training Centre for eighteen years, are reaching the end of their technical life. The acquisition of new aircraft is also an expression of support and cooperation within the Czech defense industry."
"I am glad that the contract for the acquisition of new L-39NG jet aircraft has been signed, which will ensure full-scale continuation of the tactical training of pilots of the Czech Army, by this step we are also supporting the Czech defence industry," said František Šulc, First Deputy Minister of Defence.
The latest developed subsonic jet aircraft, the L-39NG, a new generation of the Albatros trainer, received type certification in 2022 without restrictions, enabling AERO Vodochody to now sell it worldwide. According to AERO Vodochody, the L-39NG is the most cost-effective training and reconnaissance platform in its class.