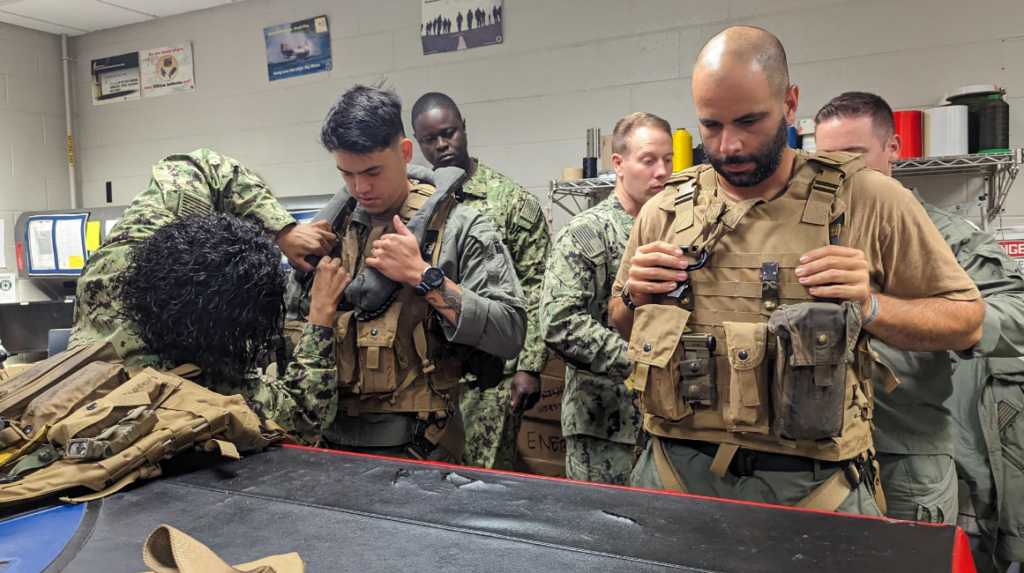 The Naval Aircrew Systems Program Office (PMA-202) aircrew survival vest team is testing new rotary wing and tilt aircrew survival vest systems that will optimize aircrew performance with a lighter, less bulky and more ergonomically suitable solution.
The team is evaluating the new vest systems for their ability to reduce instances of overheating, increase overall comfort and reduce the potential for short and long term back and neck injury of pilots and aircrew due to the bulkiness and imbalanced weight of the legacy systems.
"As mission lengths continue to increase, it's an imperative that we integrate new design features and provide vest systems that meet fleet requirements in a comfortable, lightweight solution," said Captain Carey Castelein, PMA-202 program manager.
A number of MH-60R, MH-60S, MH-53E and CMV-22 pilots, aircrew and maintainers are currently assessing the vests to ensure the solutions meet their needs and enhance operational capability. Pilots and aircrew are flying with the new vest systems and providing real-time user input on what features work and what needs improvement.
"Through research, test and fleet assessments, our team will determine the best possible solution to optimize aircrew performance with a lighter, less bulky and more buoyant system, taking into account performance and user feedback," added Cindy Stead, PMA-202 Aircrew Survival Vest team lead.
Each operator needs a comfortable vest that can be worn for long periods of time, does not cause overheating, distributes weight evenly, fits well, and enables the wearer to be highly mobile for in-cockpit visual scanning and physical movement. Additionally, vests need to be buoyant in post-crash survival and evasion scenarios.
The fleet assessments began on the West coast this summer and continue on the East Coast over the next few months. The navy may potentially field multiple survival vests depending on aircrew mission after completion of fleet assessments.