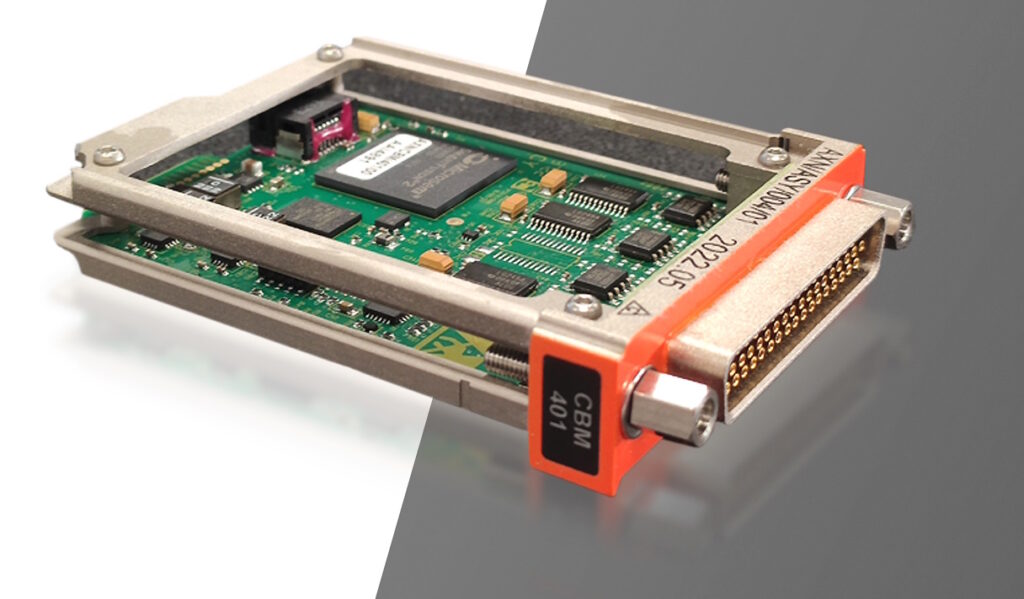 Curtiss-Wright's Defense Solutions Division has expanded its range of Axon advanced airborne data acquisition unit (DAU) modules designed for use in demanding flight test programs. The Axon AXN/CBM/401, and its ADAU ACAN-408A-1 equivalent, are the first of the Axon modules to support the flexible data rate features of CAN FD, a vehicle data network standard fast growing in popularity for data-intensive next-generation vehicles such as eVTOL aircraft.
The size, weight and power (SWaP)-optimized Axon modules deliver up to 10x the data throughput of competitive offerings via their high-speed serial backplane that provides a 1 Gbps dedicated link for each module. In addition to CAN FD, the modules are also compatible with CAN bus 2.0 A/B to ensure support for legacy systems. An advantage of CAN FD for flight test programs is its support for up to 4x higher bit rates in the Data Field compared to the CAN bus 2.0 A/B Arbitration Field messages. This increases the payload from a maximum of 8 bytes to a maximum of 64 bytes using CAN FD, allowing higher data throughput than available with CAN bus devices. The new DAU modules are ideal for use in data-intensive applications, such as flight test, HUMS, OLM, L/ESS, and production test.
The 8-channel AXN/CBM/401 provides FTI system designers with a single-module solution for coherent message parsing and packetizing. The new Axon module, which supports both the ARINC-825 and CANaerospace data protocols, enables flight test engineers to capture CAN bus bulk data in a wide variety of formats, including DARv3, iNET-X, IENA, and IRIG 106 Chapter 10. Optionally, the message stream can be filtered to capture and packetize specific messages.
As a message parser, the AXN/CBM/401 coherently parses up to 127 messages on each of its 8 data busses, along with time and status tags. Its packetizer can generate either a single packet stream per input bus or packetize messages from all active busses into a single packet stream. A programmable timeout ensures that smaller packets are generated at all times, enabling the real-time analysis and processing of acquired messages.
Brian Perry, Senior Vice President and General Manager at Curtiss-Wright's Defense Solutions Division, commented: "Our Axon and ADAU data acquisition systems for critical flight test applications provide flight test engineers with high-speed, flexible solutions for demanding FTI programs. The new AXN/CBM/401 8-channel CAN Bus monitor module, and its ADAU ACAN-408A-1 equivalent, represent Curtiss-Wright's ongoing commitment to lead the industry with the broadest range of high-performance DAU offerings to meet the unique needs of every flight test program."
Find more suppliers of data acquisition systems and equipment here