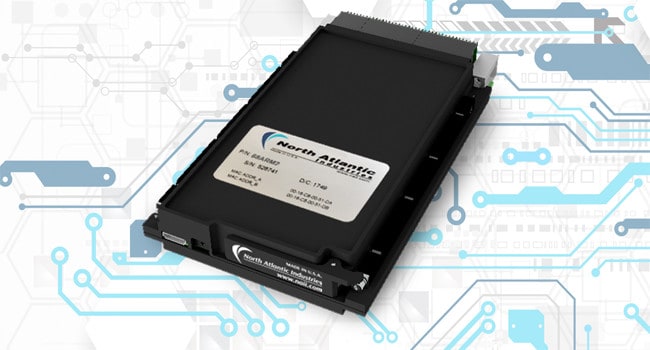 North Atlantic Industries, Inc. has introduced the 68ARM2 rugged 3U OpenVPX single board computer. The Configurable Open Systems Architecture (COSA) enabled 68ARM2 offers the greatest I/O, communications and processing density along with the greatest flexibility, adaptability and modularity in the industry.
The 68ARM2 features the Xilinx Zynq UltraScale+ MPSoC with Quad ARM Cortex-A53 processing technology for customer software applications. It is configured with 8 GB DDR4 SDRAM w/ ECC, 32 GB SATA II NAND Flash and offers integrated VITA 46.11 Tier-2 compatible IPMC for OpenVPX chassis manager interface support.
A PCIe interface is supported to one function slot allowing addition Gig-E portion options. A SATA II interface is also available to one function slot allowing up to 256 GB expansion options.
Xilinx PetaLinux, Wind River VxWorks 7.x, VxWorks HVP or DDC-I Deos RTOS support continues NAI's commitment of safety critical DO-178C and DO-254 DAL A certifiable solutions. The 68ARM2 is designed to meet the FIPS 140-3 Security Level 3 requirements for cryptographic modules. Long-term & maintenance-free battery-backed RAM for crypto-key storage and hardware perimeter intrusion sensors provides immediate tamper detect and self-sanitize functions.
Smart function modules process all I/O and communications data. Up to three independent customer configurable Analog and Digital I/O, Position, Timing, Measurement/Simulation and Communications smart function modules are supported on a single slot, 3U OpenVPX board. Over 70 pre-integrated smart functions, with dedicated processing, fuel NAI's modular mix-and-match architecture.
Ideally suited for rugged Mil-Aero applications, the 68ARM2 delivers off-the-shelf solutions that accelerate deployment of SWaP-optimized systems in air, land and sea applications. Offered in commercial, 0°C to +70°C or extended -40°C to +85°C operating temperature ranges. Conduction or Convection cooled versions are available
"The 68ARM2 SBC with Quad Arm Cortex-A53 coupled with 68G5 multifunction boards offers customers the greatest configurability in support of DO-178C & DO-254 DAL A certifiable processing and IO system solutions" states Lino Massafra, VP of Sales and Marketing. "Data Concentrator, Remote Interface, Actuator Interface and Signal Interface units are ideal systems for the 68ARM2," added Massafra.