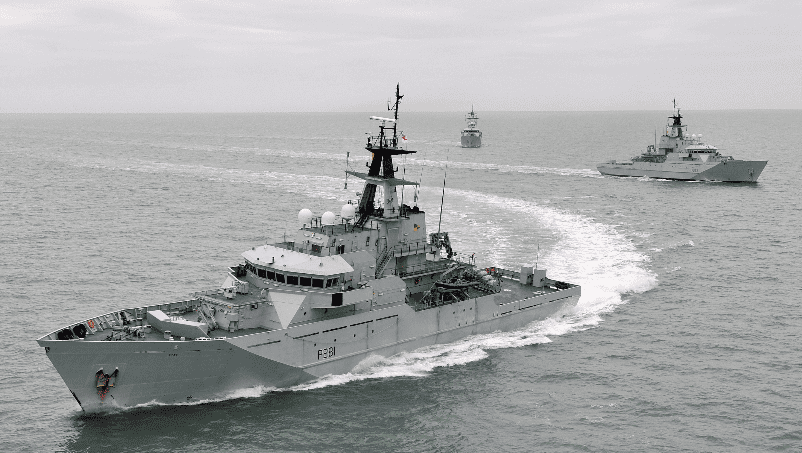 Defence Equipment & Support (DE&S) has negotiated two new support contracts for the Royal Navy's versatile Offshore Patrol Vessels (OPVs).
An eight-year contract worth around £250 million has been awarded to UK Docks Marine Services, based in the Northeast of England, which will support the second batch of OPVs, HMS Forth, HMS Medway, HMS Trent, HMS Tamar and HMS Spey.
The contract creates more than 100 engineer, technician, project manager and administrative roles within UK Docks Marine Services, of which 25-30 will be in South Shields and Gosport, with the remaining roles located overseas.
A second contract, worth £70 million over 5 years, has been secured with BAE Systems to sustain the first three Batch 1 OPVs, HMS Mersey, HMS Severn and HMS Tyne, which entered service in 2003.
Sustaining more than a dozen UK jobs in Portsmouth, the contract will aim to maintain the high availability of these essential ships in home waters and on deployments around the globe. The contract will also secure spares, repairs and maintenance out to 2028, when the ships are due to retire from Naval service.
Cdre Steve McCarthy, DE&S Director Ships Support, said: "Our Offshore Patrol Vessels are a vital component of Global Britain's Maritime Security, Defence Engagement and Humanitarian operations and they are highly successful around the world. For small ships they pack a big punch and we are delighted to award these contracts to UK Docks and BAE Systems. Both contracts offer high levels of availability to the Royal Navy for years to come."
Paul Vooght, Future in Service Support team leader at DE&S, commented: "I'm really proud of the Delivery team who've have helped shape the global support package we now have on contract with UK Docks. The contract challenges UK Docks to 'put the maintainer first' in providing a commercial-style ship management service in meeting the high availability demand of the Batch 2 OPVs."
OPV taskings include homeland defense global counter-terrorism, anti-smuggling, maritime defense, humanitarian support operations and engagement with UK's Overseas Territories, allies and global partners. The OPVs are designed to be available for operational tasking for more than 300 days per year.
The 90-metre-long Batch 2 OPVs, similar to the length of two Olympic swimming pools, are equipped with a 30mm cannon and flight deck capable of accommodating a Merlin helicopter. With a range of more than 5,500 nautical miles and a top speed of more than 20 knots, they are permanently deployed worldwide with patrols in the South Atlantic, North Atlantic, Caribbean, Mediterranean and the Indo-Pacific region.
Graeme Little OBE Head of Future Support Acquisition in Navy Command and Project SRO, commented: "This is another big step on the journey to implement the Naval Enterprise Support Strategy, I am delighted with the outcome of the commercial activity by colleagues in DE&S who have put in place effective, efficient, and commercially benchmarked support solutions that are critical to providing support to the Offshore Patrol Vessels."
The majority of support work for Batch 2 will be carried out at sites across the world, with UK Docks, who already supports HMS Protector, the Royal Navy's Ice Patrol Ship, providing global engineering, technical and logistics support to secure spares, repairs and maintenance services. Their deployment is global so it is vital that we set up support networks to ensure they can remain at sea and ensure the UK's truly global presence.
UK Docks Managing Director, Jonathan Wilson, said: "We are delighted to have secured this major contract, which is the culmination of several years' work showing UK Docks can deliver the highest standards of service and professionalism the Royal Navy requires for the maintenance of its vessels. We also see the awarding of this contract as a resounding vote of confidence in homegrown British industry, skills and capability and we look forward to putting those resources at the service of these five important vessels."
The Batch 1 ships, built by VT Shipbuilding, now part of BAE Systems, and designed for high availability, are around 80-metre-long and deployed offshore around the UK. The extension to their support contract secures BAES Systems' role for the Batch 1s to their out of service date.
Head of Asset Management at BAE Systems, Dean Kimber, added: "This contract extension is testament to the hard work and dedication of BAE Systems in supporting Royal Navy OPVs for the past 20 years. We are pleased to continue our work supporting OPV Batch 1 enabling high availability of the ships as they carry out their vital roles protecting UK waters."